The Nerds Win Twitter! What Topped the Royal Baby and Beyonce in Earning the Most Tweets Ever?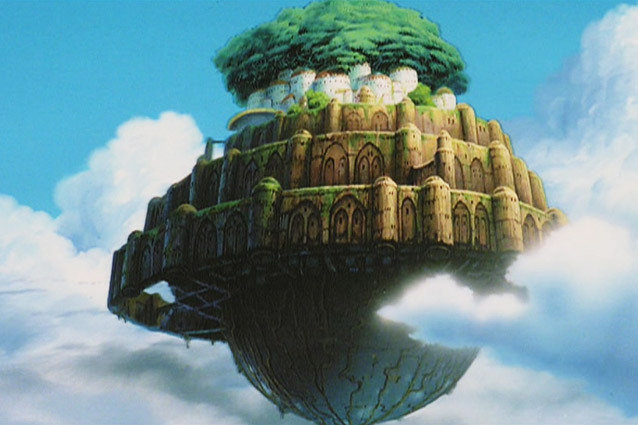 Studio Ghibli
When you think about it, Twitter is a pretty good representation of our planet on the whole. We've got all the major human demographics voluminously represented — celebrities, borderline-illiterates, malignant psychopaths, and halfway functional automated bots make up the primary voices of the social media platform (just like they do the rest of the world). But running rampant above and beyond each of these sub-species is the average tabloid affixed Westerner. The sort of marginally employed youngster who sports more than three Beyoncé tattoos and is already planning a Second Annual Royal Baby Bash (the potential nonexistence of a second Royal Baby notwithstanding). If you had to guess which group of people, for lack of a better word, had the stronghold on Twitter, you'd be likely to pick this lot of perpetual tweens.
But you'd be wrong… in the best way possible. It's actually the nerds. To be exact, those faithful fans of the ingenious Japanese filmmaker Hayao Miyazaki, whose 1986 classic Castle in the Sky provoked a record-breaking moment of Twitter usage.
See, the devoted workforce at Twitter HQ was analyzing data and crunching numbers and other such filler phrases that only someone who had no idea how this sort of thing worked would bother to say when the troops stumbled upon quite a brow-raising anomaly: Aug. 3, 11:21:50 PM Japan Standard Time (which, in EST, would have been 10:21:50 AM of the same day). At this very second, Twitter spiked to record rates, augmenting the site's usage by approximately 25 times, besting the likes of Blue Ivy Carter's pregnancy announcement and the ultimate reveal of North West's name, and resulting in the hilarious line graph below: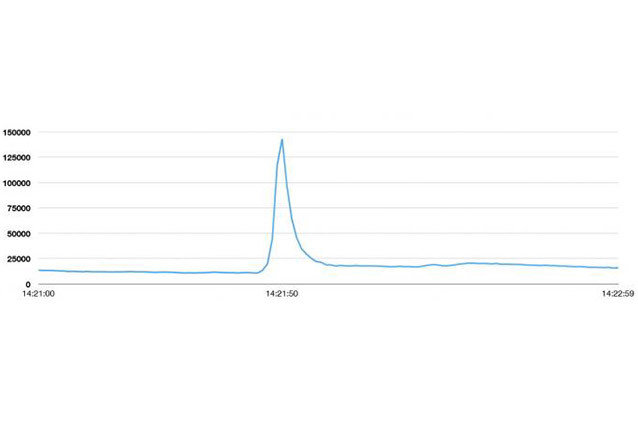 Twitter
So what exactly was the provocation of this hashtag-happy happenstance? A climactic point in Miyazaki's adventure film when the story's hero recites the enchanted maxim "Balse!" During a screening of the movie, the Japanese public managed the accomplishment of 143,199 tweets per second. That's a whole lot of "#balse"s. A whole lot of wonderful, enchanting, decidedly nerdy passion.
Sure, the Little Monsters, Katy Kats, Middletonians, and Beyonthropologists might tweet with an admirable ardor. But they are no match for the We-yazaki. Those who may have less interest in Prince Harry than Princess Mononoke, who might prefer Ponyo to YOLO, who couldn't care less about Lindsay Lohan but champion every viewing of Mei and the Kitten Bus (I know that last one isn't clever, but it's from the heart). So any time you're feeling muted, fellow neighors of Totoro, just think back to that glorious time in history: Aug. 3, 11:21:50 PM JST. The moment our voices were heard.
Follow Michael Arbeiter on Twitter @MichaelArbeiter | Follow hollywood.com on Twitter @hollywood_com
More:
Taking a Look at Patton Oswalt's Genius Twitter Gag
The Guy Behind 'Modern Seinfeld' Gets a TV Show
Demetri Martin Doesn't Like Twitter
---
From Our Partners


Battle of the Bikini Bodies (Celebuzz)


Complete Guide to Strippers in Movies and TV (Vh1)