Home
Celebrities
MTV Video Music Awards Move to Brooklyn: Barclays Center to Host 2013...
MTV Video Music Awards Move to Brooklyn: Barclays Center to Host 2013 Ceremony Live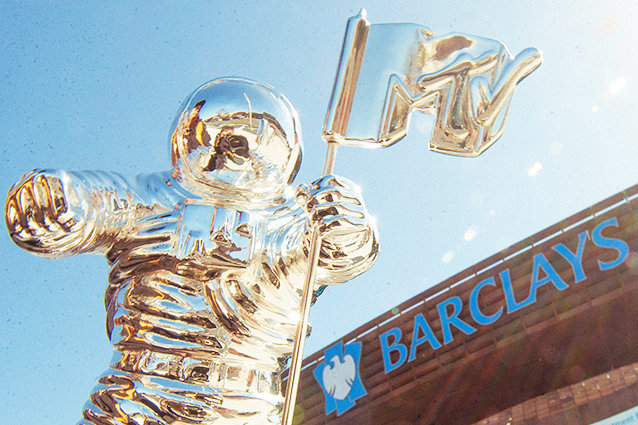 With the Nets, Beyoncé concerts, and the Ringling Bros. Circus among its high profile events (that juggling elephant will change your life), Brooklyn's own Barclays Center is quickly becoming a top ranking entertainment venue for the New York metropolitan area. It's even beginning to attract shows from across the country: MTV's Video Music Awards, a Los Angeles-based broadcast for the past three years, is moving back to the East Coast for its 2013 show.
Mashable reports that the VMAs will shoot live on Aug. 25 from the Barclays Center, making this the first broadcast in Brooklyn and the 14th in New York. The ceremony has previously found home in the cities of Las Vegas and Miami, as well.
RELATED: MTV Movie Award Nominees Include 'Magic Mike' and 'Django'
In honor of the "relocation," MTV's Instagram account is hosting the #RoadToTheVMAs Internet movement, updating subscribers to the whereabouts of the network's Moonman mascot on his trek across the country. 
Mashable shares a statement from MTV President Marty Markowitz, praising the Barclays Center as the VMA's next home: "From hip-hop to hipsters, Jay Z to MGMT, Brooklyn musicians have a long history of dominating the spotlight on MTV … Brooklyn is a cultural Mecca — the hippest, coolest place for young people across the country, and has played a crucial role in the careers of some of 2013's biggest bands, like Fun and the Lumineers." Thus concluding that Brooklyn is awesome, and MTV is run by somebody who sounds like he has the pop culture knowledge of your dad.
Follow Michael Arbeiter on Twitter @MichaelArbeiter
[Photo Credit: MTV]
---
You Might Also Like:


15 Oscar-Winning Nude Scenes


10 Insane 'Star Wars' Moments You Didn't Notice