The Music Videos You Didn't Expect To Give You A Fright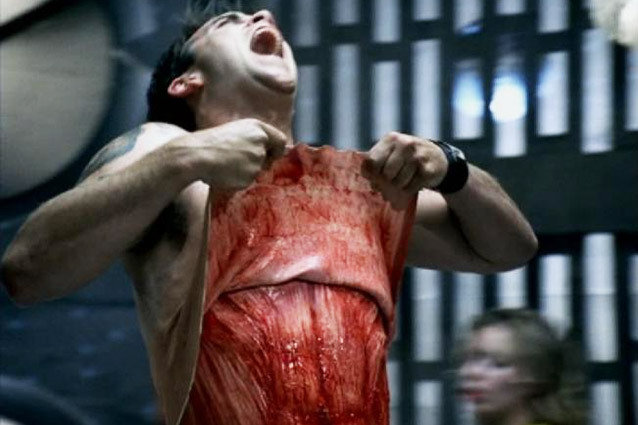 YouTube
Nine Inch Nails' "Closer," Marilyn Manson's "The Beautiful People," Aphex Twin's "Come To Daddy" – all three are no-brainers when it comes to selecting the scariest music videos of all time. But given each artist's reputation, the disturbing imagery which defined them shouldn't have come as too much of a shock. Indeed, some of the most fearsome promos emerge when a less typically controversial act decides to catch the viewer off guard by giving into their previously hidden horror leanings. Here's a look at five which may have scared the bejeezus out of you when you were least expecting it.
Robbie Williams – "Rock DJ"
Swapping the ice rink of his previous video for the roller disco, Williams tries to catch the attention of the female DJ by stripping off both his clothes and then his actual skin in a bloody and surprisingly grotesque finale which led to accusations of Satanism. 
Azari & III – "Hungry For The Power"
The Chicago house scene isn't exactly renowned for producing video nasties. But that didn't stop Azari & III from creating a blood-splattering cannibalistic take on American Psycho which subsequently received a ban from YouTube.
Miike Snow – "Paddling Out"
The team behind bubblegum pop hits from Britney Spears, Kylie Minogue and Jennifer Lopez continued to leave the day-job firmly behind with this video, which sees a dancing slob surgically altered by aliens to look like a warped version of '90s Trent Reznor. Follow-up "The Wave" was equally unsettling.
MGMT – "Kids"
Before they abandoned the concept of a tune, MGMT delivered one of the most joyous singles of 2008 with the prog-pop of "Kids." However, the video is the stuff of nightmares as a poor toddler is terrorised by everything from hoodied zombies to creepy sheepdogs in front of his wildly oblivious mother.
Broken Social Scene – "Sweetest Kill"
Even band member Andrew Whiteman was taken aback by the literal video treatment for the Canadian indie-rockers innocent tale of teens at a summer camp dance as Bijou Phillips murders her boyfriend before graphically hacking at his lifeless body.
Follow @Hollywood_com