The Music World According To Charlotte Church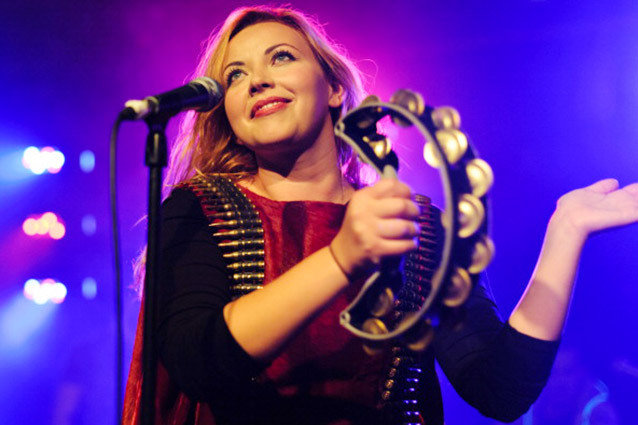 Getty/Joseph Okpako
Following The Who's Pete Townshend's speech on piracy in 2011 and Billy Bragg's rally against the decline of state educated musicians in 2012, Charlotte Church became the latest star to speak out against a particular aspect of the music industry this month when she took to the stage for the annual John Peel lecture. This time it was the representation of women in pop that was the major issue, which having gone from precocious young soprano to teen-pop star to indie singer-songwriter, the 27-year-old certainly knows quite a bit about. Here's a look at some of her most headline-grabbing key points.
"Women are being coerced into sexual roles to cling on to their careers… They are encouraged to present themselves as hyper-sexualised, unrealistic, cartoonish, as objects, reducing female sexuality to a prize you can win."
Miley Cyrus' ears should once again have been burning after Church appeared to summarise Sinead O'Connor's recent string of open letters in a far more succinct manner.
"When I was 19 or 20, I found myself in this position, being pressured into wearing more and more revealing outfits.  I felt deeply uncomfortable about the whole thing, but I was often reminded by record label executives just whose money was being spent."
However, Church empathised with the current crop of former tween stars after acknowledging that she too was coerced into acting more provocatively during her mainstream pop phase.
"Now, I find it difficult to promote my music where I feel it would be best suited, because of my history.  The culture of demeaning women in pop music is so ingrained as to become routine, from the way we are dealt with by management and labels, to the way we are presented the public."
But issuing a warning to those who may want to let the music do the talking in the future, Church admitted that she'd since found it hard to get her music taken seriously because of her past.
"It is a multi-billion dollar business that relies upon short-burst messaging to sell product. And there's no easier way to sell something than to get some chick to get her tits out, right? This idea, repeated over generations, can't but have a negative effect on women, whether they are in the industry or not."
After referencing Rihanna's recent controversial video for "Pour It Up," Church argued that such overt displays of sexual behaviour sends out the wrong message to society as a whole.
"It is interesting to note, that anyone of any age has been able to watch Christina Aguilera's simulated masturbation in her 'Dirty' video on YouTube since the website began.  And yet you must sign in to the site to prove your age if you wanted to watch Bjork's stunning video for 'Pagan Poetry'."
While admitting that neither of the videos mentioned above are suitable viewing for young children, Church blasted YouTube for their hypocrisy when it came to naked flesh.
"From what I can see, there are three main roles that women are allowed to fill in modern pop music. Each of them restrictive for both artists and audience. They are mainly portrayed through the medium of the music video, you'll find them very familiar.  I call them One of the Girls' Girls, the Victim/Torch Singer, and the Unattainable Sexbot."
Even national treasure Adele wasn't immune from criticism after Church placed her in the second category of female artists whose careers are built on being the wronged woman.
"The indefensible Robin Thicke, stated in an interview with GQ, that his intention was to do everything that is completely derogatory towards women because he respects them so much."
After describing pop's biggest sleazeball as mediocre, Church then stuck the knife in deeper after recalling his completely preposterous justification for "Blurred Lines "and its equally questionable video.
"The terrifying thing is that the target demographic for this type of music is getting younger and younger.  Jennifer Lopez seemingly trying to engulf the camera with her vagina on Britain's Got Talent earlier this year is a mild example of how frequently carnal images creep into the realm of what is deemed okay for kids."
Not one to mince her words, J-Lo also got it in the neck following a raunchy performance of "Live It Up" on the pre-watershed talent show.
Follow @Hollywood_com