Kanye Goes To Kazakhstan — When Musicians Meet Dictators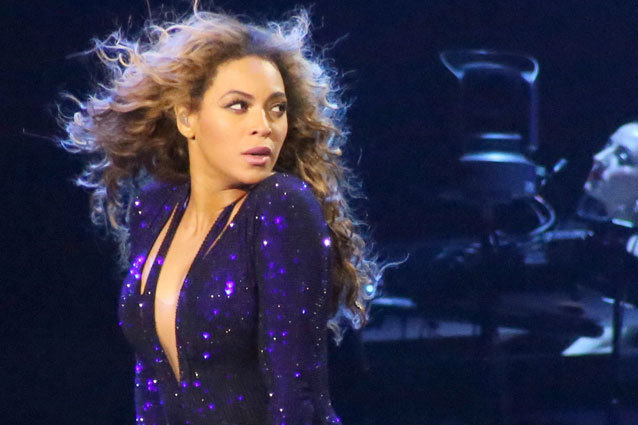 KIKA/WENN
Despite what celebrities try to have us believe, ultimately a check is a check. That explanation much better clarifies why so many pop stars have gone over to countries in political strife to perform for notorious dictators and essentially glamorize their oppressive regimes. For the greater part of the last year, Kanye West has been in the headlines for being Mr. Kardashian, but he recently received backlash for performing at Kazakh President Nursultan Nazarbayev's grandson's wedding. Nazarbayev's government was accused of violating basic human rights by imprisoning social activists just last year, so the news of West receiving $3 million to perform at the wedding didn't go over well with the public. Here are 4 other stars that have performed at questionable venues for a fat check, only to plead ignorance later on.
Beyoncé
On New Year's Eve 2009, Beyoncé was paid approximately $1 million to perform for the sons of former Libyan ruler Muammar Gadhafi, Mutassim and Hannibal. Considering this was the same Gadhafi that was overthrown and murdered by his own people less than 2 years after the fact, it's not too surprising that the show was controversial. Gadhafi had been being called the "mad dog of the Middle East" since Reagan's time, so there really wasn't any excuse for not being up-to-date with the political climate in Libya. To be fair, Usher, Nelly Furtado, 50 Cent, and Mariah Carey also received large sums of cash to perform for the Gadhafi sons, and all singers allegedly donated their checks to charities. After they got busted, of course.
Jennifer Lopez
Earlier this year, Jennifer Lopez performed in Turkmenistan, a place that has the dubious honor of being named "one of the world's most repressive countries" by the Human Rights Watch. Performing for President Gurbanguly Berdymukhamedov's birthday, Lopez reportedly received $1.5 million for her efforts. Lopez also tried to play the ignorance card, but homegirl has also performed in Uzbekistan and Azerbaijan, 2 countries that are not too far off from the conditions in Turkmenistan. Serious question: How many "Plead Ignorance Free" cards can someone use before we can officially just call them dumb?
Sting
Sting performed at a concert put together by Uzbekistan President Islam Karimov's daughter in 2010. This was hugely controversial, namely because the Uzbekian government has been accused of literally burning protesters alive. Sting is Sting, so it's common knowledge that he isn't exactly struggling for dollars, and he received a measly $1.5 million or so for his performance. Sting was one of the few celebrities who didn't play dumb and owned up to what he did, albeit in a chop logic statement. Claiming that he was fully aware of the "appalling reputation" of the Uzbek president, he stated that he played the show anyway because "cultural boycotts are not only pointless gestures, they are counter-productive, where proscribed states are further robbed of the open commerce of ideas and art and as a result become even more closed, paranoid and insular." OK, Sting. Keep on rocking that Bullsh*t Thesaurus.
Seal & Hilary Swank
In 2011, Seal performed at Chechen President Ramzan Kadyrov's birthday bash, the same party that Hilary Swank was caught hanging at. Swank's people had apparently told her about the human rights violations that Kadyrov had been accused of, but she ignored their warnings and not only went to the party, but talked about how awesome he was after the fact. Seal performed at the same party, and after he was questioned about his actions, he stated that he was merely "playing for the people." If "people" means a group of elite despots that run a country full of citizens who couldn't even afford a concert ticket, then Seal is definitely in the right.
More:
Farewell To Cal Worthington
Rockers Love Models, And Vice Versa
'The Mortal Instruments' Sequel Put On Hold
---
From Our Partners:


40 Most Revealing See-Through Red Carpet Looks (Vh1)


15 Stars Share Secrets of their Sex Lives (Celebuzz)