Mystery Speaker Revealed: Clint Eastwood at the RNC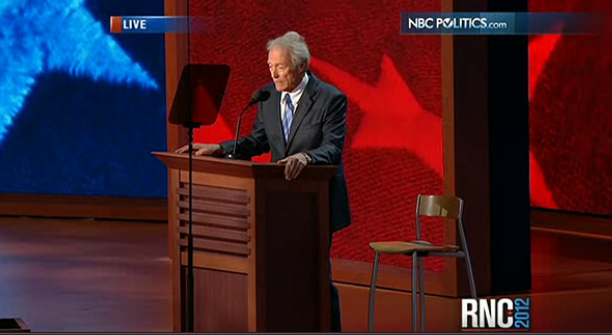 For days speculation had run rampant about who the "mystery speaker" at this year's Republican National Convention would be: a hologram of Ronald Reagan? Former Democrat from Connecticut Joe Lieberman? Footballer Tim Tebow? Well it turns out that the mystery man of the hour that wasn't Republican Presidential nominee Mitt Romney was actually Hollywood legend Clint Eastwood.
The Oscar-winning actor and director had previously come out with his support for Romney, and so it's no surprise that Eastwood is a big get for the party's big, well, party.
Conservative blogger (and daughter of former Presidential hopeful John McCain) Meghan McCain shed some light on the subject to E!, explaining "I have heard from reliable sources that it's Clint Eastwood." She went on to say "If it is Clint Eastwood, I think he brings a sort of cache of being a Hollywood legend at this point. The Republican party has a long history of electing actors: Arnold Schwarzenegger, Ronald Reagan." Sort of makes you wonder if this is Eastwood's big debut as a potential political player, doesn't it?
But if it was the start of a political career, it did not contain the platitudes of a political hopeful. Instead, Eastwood spoke to the issues at the core of the Republican's woes with the country: current U.S. President, Barack Obama. Eastwood's speech was a series of jokes and jabs at Obama and his Vice President, Joe Biden, peppered with praise for Romney. On stage with Eastwood throughout the speech was an empty chair that he explained was "Obama," and that he'd agreed to answer a few questions for those at the convention. At several points throughout the speech, he joked that the Obama in the empty chair was telling him to "shut up" and that Romney and Eastwood should go "____ themselves" (the word was never said, but it was insinuated to be "f**k" given the context).
Eastwood commended Romney for being a "stellar businessman," and called for Obama to step aside. Eastwood got big laughs at several points throughout the evening, including a mention of Oprah crying, as well as Obama's use of Air Force One to "fly to college campuses to talk about student loans."
To close out the speech, Eastwood touted his love of the democracy of America. "We own this country," he explained to raucous applause and chants, "and it's not you owning it or politicians owning it … [they're] employees of ours. … I just think it's important that you realize that you're the best in the world, whether Democrat or Republican or Libertarian, and we should not ever forget that."
The biggest applause of the evening came when Eastwood stated "when somebody does not do the job, we've got to let him go." The crowd continued its rapturous applause after a woman demanded Eastwood say one of his most iconic lines. "I'll start it," he said before pausing to say "Go ahead…" to which the entire audience at the Republican National Convention screamed "make my day!" Lasting just a few minutes, Eastwood's speech was a lead-up to Romney's introduction by Republican hotshot Marco Rubio.
Are you surprised (or happy) about Eastwood being the mystery speaker? What did you think of his speech? Let us know in the comments.
[Screen Grab Credit: MSNBC Live Feed]
Follow Alicia on Twitter @alicialutes
More:
Which Presidential Candidate Is Clint Eastwood Backing?
The Official Republican National Convention Drinking Game
Clay Aiken, Sarah Silverman, Stephen Colbert and More Tweet About RNC