Natalie Portman and Johnny Depp Make Cameo in New Paul McCartney Video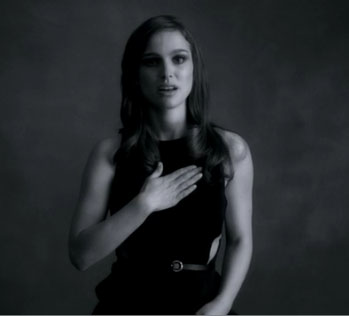 Who knew Johnny Depp and Natalie Portman were versed in sign language? The two Academy Award nominated actors show off their hidden talent in the new Paul McCartney video, "My Valentine," where they sign the words to the newly released song. The ex-Beatles singer opted to stay behind the camera, choosing instead to direct one of the two original songs off his new album, Kisses on the Bottom, which features a collection of songs he grew up listening to.
The album was released in February, but on Friday night the British singer and songwriter debuted the video at his daughter Stella McCartney's LA clothing store. The exclusive screening party drew stars like Gwyneth Paltrow, Reese Witherspoon, Kristen Stewart, and Zooey Deschanel.
McCartney filmed three versions of the video: one featuring both actors, the other two with each individually. This is not the first time Portman has appeared in a McCartney music video as she can also be seen in 2007's "Dance Tonight."  Not to be outdone, Depp is also shown plucking away at the guitar — his solo later gets mixed into the song's final track.
Do you like the video? What do you think about the stars' secret talents?