Natalie Portman's Wedding Dress: Demure or Dowdy? — PICS
As soon as news broke that Natalie Portman walked down the aisle this weekend and officially tied the knot with her beau, Bejamin Millepied, media outlets (including, naturally, your own Hollywood.com) began envisioning the dress. It's pretty much undisputed that the Oscar winner is one of the most classically gorgeous woman in Hollywood, and her style is just as impeccable as she is. So what on earth would her wedding dress look like? Visions of Kate Middleton in Sarah Burton and Carrie Bradshaw in Vivienne Westwood pranced through our minds like beautiful, lace-clad wedding nymphs.
The first photos of Portman's gown, however, reveal a dress that is remarkably sweet and simple. For her traditional Jewish ceremony, Portman chose a dress that would cover her chest and arms — a tea-length dress People.com reports is by designer label Rodarte. The flower crown and ballet flats (or are those actual ballet slippers, in honor of the groom?) Portman used to accessorize are much more hippie-chic than Old Hollywood glamour. But we don't hate it! Portman looks like a breath of fresh air in an industry where gaudy goes best with a wedding.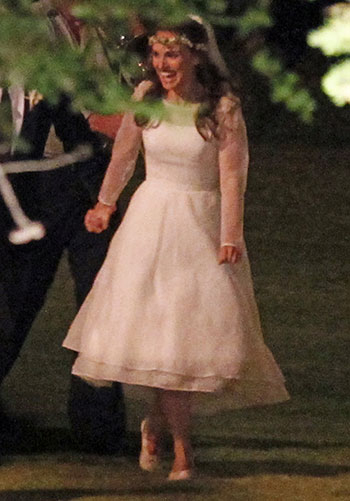 Everyone's a critic on the Interweb, however, and many found Portman's dress wanting. Tweets from those less than impressed ranged from, "Natalie Portman's dress is probably the ugliest dress I've ever seen in my life," to "Quelle horreur! Not flattering AT ALL. It made her look stumpy," and "Why wasn't your dress half as pretty as it should've been?"