Neil Patrick Harris & David Burtka Get Close in 'Out' Magazine Photos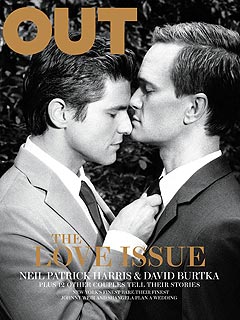 Celebrity romances easily come and go, but what Neil Patrick Harris and David Burtka have is something that will most likely last a lifetime. The couple recently posed in intimate photos for Out magazine's annual Love Issue, while also discussing the ups and downs of their relationship — and I have to admit, it's rather adorable. Before this, we didn't know much about NPH's relationship with his longtime beau, but now that we do, they officially qualify as one of my favorite Hollywood couples.
Upon discussing how they met, Harris admitted that — at least for him — there was an immediate attraction. He said, "When we all hung out for the first time — I was invited by [a friend] to an American Idol viewing party — I just stammered around him. I couldn't take my eyes off him." NPH also confessed that he was the first of the two to say the words "I love you." He recalled the moment to the magazine, saying, "I remember saying, 'I think I love you,' and he was like, 'That's really nice,' which is not necessarily what you want to hear. But I appreciated his honesty in not jumping the gun and saying something because he felt obliged to."
But, of course, that's not the case anymore. In fact, now Burtka can't even imagine what life would be like without Harris, saying, "Without him, I can't breathe. The biggest thing is that he makes me laugh, but he's also smart. He can do everything. I'm not kidding; I think he's half robot. He makes me a little more grounded, and I bring out the wild side in him." Say it with me now: aww.
Not that it's perfect all the time. Harris also talked about the work needed to maintain their relationship, admitting: "Sometimes I'm deeply in love with David and head-over-heels, and sometimes I question whether it's going to work out and is meant to be," while Burtka adds, "It's more good times than bad, but it's not always good." But that's to be expected in any long-lasting relationship.
And no matter the highs and lows, Harris can't wait until the day comes when he and Burtka tie the knot. He went on to say, "I'm not the biggest fan of the word 'partner': It either means that we run a business together or we're cowboys. 'Boyfriend' seems fleeting, like maybe we met two weeks ago. I've been saying 'better half' for as long as I've been able to. I think it's a little self-deprecating and clearly defines that we're in a relationship, but it would be nice to say 'my husband.'" Not to mention that seeing their 15-month-old twins as ring bearers would be just about the cutest thing ever.
But seriously, if you didn't love these two before, you're going to love them now. They're confident enough to admit that there are flaws in their relationship, but it's worth working through it as long as they're together. It's actual love — a rare thing to find in Hollywood — and it actually makes me believe these two can stick it out for the long haul. And if the text isn't enough to prove they really love each other, then let these pictures speak for themselves: