Neko Case Fights Into Our Hearts: Why You Should Know Neko Now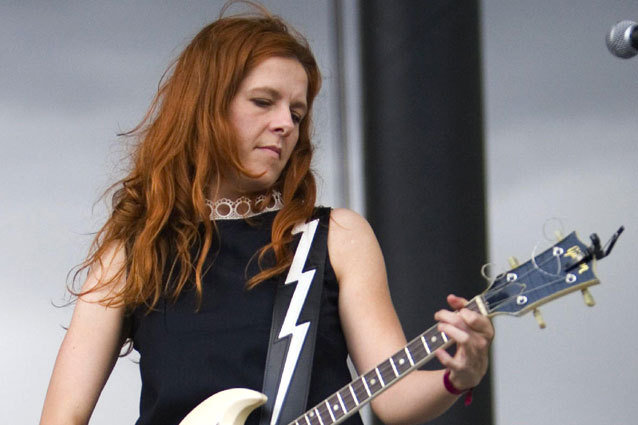 Kevin Corkum\WENN
Last week was a big deal for singer-songwriter Neko Case: she released her sixth album, the yearningly-titled The Worse Things Get, The Harder I Fight, The Harder I Fight, The More I Love You (Anti- Records), to the best reviews of her career. She had a busy week's worth of promotion, ranging from a terrific appearance on Late Night with Jimmy Fallon to her debut as a panelist on the NPR quiz show Wait Wait, Don't Tell Me (where she tanked on the final lightning round, unfortunately). She also started a nationwide tour that will run through November. Plus, Sunday was her 43rd birthday, so hopefully she got a nice cake or something. So here's five things you may not have known about the copper-haired siren.
She Started Out DIY
Neko Case first gained notice for a string of powerful alt-country albums in the late 1990s, but she actually got her start as the drummer for an all-female punk trio from Vancouver, British Columbia called Cub. She played drums on their 1993 debut album Betti-Cola, which included their best-known song, the adorably twee "My Chinchilla." (That's her replacement Valeria Fellini in the video, however.)
She's Not Actually Canadian
Although Case got her start on Vancouver's DIY scene and has since 2000 been a key member of the Canadian power pop collective The New Pornographers (singing lead on many of their best-known songs, including their debut single "Letter From An Occupant"), she was born in Virginia and grew up in Tacoma, WA. She'd moved to Vancouver to study at the Emily Carr Institute of Art and Design, from which she graduated in 1998, and music writers have mistakenly called her a Canadian artist ever since.
She's Finally Settled Down
After losing her student visa, Case left Canada, living in Seattle, Chicago, Tucson and other cities before buying a large, isolated farm in Vermont. Much of her previous album, 2009's Middle Cyclone, was recorded on the farm, with some tracks featuring a chorus of old out-of-tune pianos she had picked up for free on Craigslist and stowed in her barn. The album ends with a thirty-minute track called "Marais la Nuit," a field recording of a frog-filled pond on her property.
She Respects Other Songwriters
The Worse Things Get is unique among Case's albums for being entirely self-written. A student of songwriting, Case has recorded masterful versions of songs by everyone from Hank Williams to the cult-hero art rock duo Sparks, whose "Never Turn Your Back On Mother Earth" is a highlight of Middle Cyclone. Although even now, she enjoys tipping a cap to her influences: the two-LP vinyl version of The Worse Things Get includes three bonus tracks, kicking off with a spirited take on Robyn Hitchcock's 1989 college radio hit "Madonna of the Wasps."
She's Had A Rough Four Years
In the four and a half years since Middle Cyclone's release, Case lost both her parents and a grandmother. As a result, The Worse Things Get is a somber, poignant album with an uncharacteristically naked autobiographical edge to its lyrics. And yet it isn't merely dark and is only rarely depressing: there's a sense of peace and even hopefulness to many of the songs. It's one of the year's strongest albums, and certainly one of its most emotionally resonant.
More:
5 Overlooked Songs of the Summer
5 Albums To Buy: Music Documentary Stars
What Your Fave Boy Band Says About You


---
From Our Partners:


40 Most Revealing See-Through Red Carpet Looks (Vh1)


15 Stars Share Secrets of their Sex Lives (Celebuzz)