Nelson Mandela Dies at 95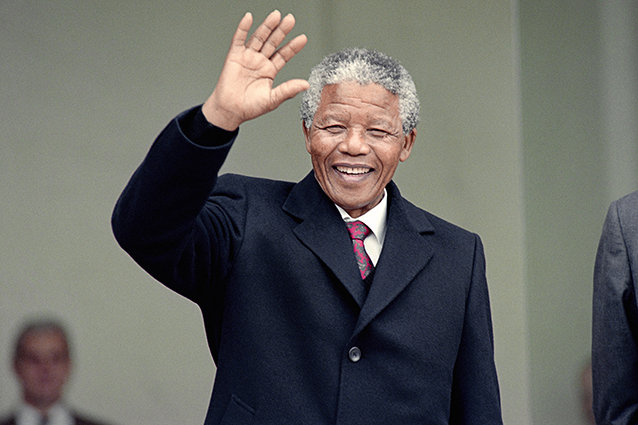 Michel Clement/Daniel Janin/AFP/Getty
Former South African President Nelson Mandela, who was the face of the opposition against his country's apartheid and an inspiration to Hollywood, died today at 95 in Johannesburg. He had been hospitalized off and on for several months due to a lung infection.
The revolutionary and global icon served 27 years as a political prisoner for rebelling against his country's oppressive regime, eventually winning the Nobel Peace Prize in 1993 and becoming South Africa's first black president in 1994. His words continually struck the hearts of citizens and leaders throughout the world, most notably his 1964 speech titled "I Am Prepared to Die":
"During my lifetime I have dedicated myself to this struggle of the African people," he said. "I have fought against white domination, and I have fought against black domination. I have cherished the ideal of a democratic and free society in which all persons live together in harmony and with equal opportunities. It is an ideal which I hope to live for and to achieve. But if needs be, it is an ideal for which I am prepared to die."
And to Hollywood, Mandela has been much more than just a leader; he's been the basis for countless films, biopics, and television specials throughout the decades. He has been portrayed by Sidney Poitier in Mandela and de Klerk, Dennis Haysbert in Goodbye Bafana, Morgan Freeman in Invictus, David Harewood in Mrs. Mandela, Terrence Howard in Winnie, and most recently by Idris Elba in Mandela: Long Walk to Freedom, which was released this past November. Through these films, his life, his struggles, and his wisdom have been forever immortalized.
A state funeral will be held in honor of Mandela.