Neutral Milk Hotel Reunite for Tour 15 Years After Recording the Greatest Album Ever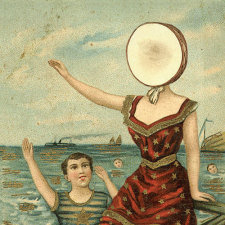 If you're a Neutral Milk Hotel fan, prepare to do backflips. If not, prepare to have your socks rocked off. After 15 years, NMH is reuniting for a brand new tour.
In case you didn't realize, In the Aeroplane Over the Sea is the greatest album of all time. Jeff Mangum and his band Neutral Milk Hotel may not have the legendary fame of acts like The Beatles, Bob Dylan, and The Rolling Stones. Nor is Over the Sea an album where all the stars aligned, like The Beach Boys' Pet Sounds. But I'm telling you: it's the greatest. The. Greatest.
Adding to the allure of Mangum's 11-track poetic demonstration of alternative rock n' roll (which many believe is inspired by the life of Anne Frank) is the fact that Neutral Milk Hotel never followed it up. After Over the Sea arrived in 1998 the band went on tour and then… an extended hiatus. Since then, Mangum has been all but mum on the future of Neutral Milk Hotel, leaving fans to replay the wailing vocals, lines of horns and guitar, lo-fi recording of In the Aeroplane Over the Sea over and over and over again. Who knew MP3's could form grooves?
Now, in a true mysterious-rock-star move, Netural Milk Hotel is set to return for a tour of unspecified length — and there are already a few dates and locations locked for the reunion. Mangum, along with his broadly talented In the Aeroplane Over the Sea ensemble Jeremy Barnes, Scott Spillane, and Julian Koster, will hit the road this Fall with a portion of their tour proceeds going to the Children of the Blue Sky charity. Who is lucky enough to live in….
10-22 Athens, GA – 40 Watt Club
10-23 Athens, GA – 40 Watt Club
0-25 Asheville, NC – Thomas Wolfe Auditorium
11-28 Taipei, Taiwan – Hostess Club Festival
12-01 Tokyo, Japan – Hostess Club Festival
The Neutral Milk Hotel website promises more shows to follow, so start crossing those fingers. The update also includes this bit of contextless ruminating:
and of water course womb rume is a wandering the welkin woman whose fune caul is all umbilical cord code that comes equipped with read volve vît curtains that čun seel my văl én tich radio reason in remembrance of mademoiselle gabrielle and her wone tym pad lock of burd language as it borders on twin tolk the wolk king wall of woolpack pigeons pointing to the fly blind readers riddle and his rian boh
No, this isn't quite a In the Aeroplane Over the Sea follow-up. But as a defining album of rock music, the chance to see the original band reform to play it live may be more vital. Hearing "Oh Comely" recorded is necessary. Hearing Magnum preach the song in person feels essential.
Follow Matt Patches on Twitter @misterpatches
More:
David Bowie Makes a List of 42 Words
Is Selena Gomez Using a Body Double?
TV Throwback: Music Video Memories
---
From Our Partners:


Beyonce Flaunts Bikini Bod for H&M (Celebuzz)


33 Child Stars: Where Are They Now? (Celebuzz)