New Jersey Man Wears Pasta Strainer in DMV Photo, Cries Religious Oppression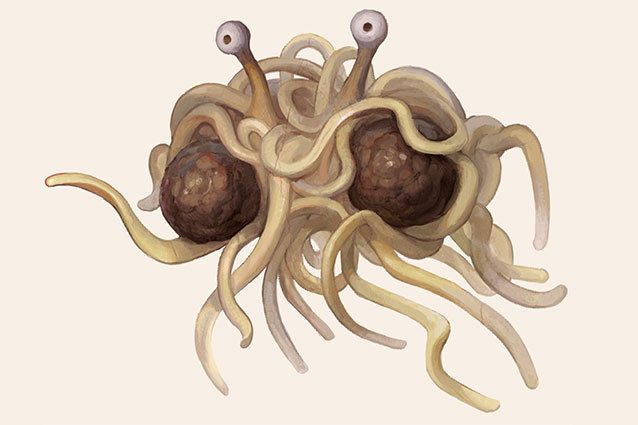 You'd think — in a country founded on freedom, in an era of intellectual progress — that our people would no longer be subject to this brand of ribald religious persecution. But it is with a heavy heart that we report today on the wrongdoings of a New Jersey Department of Motor Vehicles in its prohibition of 24-year-old Egg Harbor Township resident Aaron Williams' simple, wholly reverent wish to take his driver's license photo while wearing the traditional headgear sanctified by his religious scripture.
RELATED: 10 Stars Who Have Rejected Scientology
Yes, the religion to which he subscribes is that of the Flying Spaghetti Monster. And yes, the headgear in question was actually a pasta strainer Williams popped on his dome in an act of satire. But does that make the ordeal any less severe?
Okay, yes. It's actually kind of funny. But funny's important, too.
Galloway, N.J.'s syndication of Patch reports that on Feb. 2, Williams arrived at a DMV in the Middlesex County neighborhood of Dayton, draped from the neck up in the hallowed garb of his noodly-appendaged lord and savior. When Williams refused to take the pasta strainer off his head for the purposes of a photo, proclaiming it his religious right — akin to the entitlement of respective disciplines to don turbins, yarmulkes, and Travolta-Brand Scientology visers — DMV employees called the South Brunswick Police Department to handle the wiseassery. I mean, sacrosanct devotion. I mean, unorthodox venue for dishware storage.
RELATED: 20 Best Spaghetti Westerns Ever Made
For those unfamiliar with the learnings of the Flying Spaghetti Monster, often deemed Pastafarianism, they stem from a satirical essay written in 2005 by Oregon State University physics graduate Bobby Henderson. The phenomenon of the FSM sardonically mirrors the scriptures of Christianity, challenges the very ideas of organized religion and Biblical dogma, and occasionally provokes people to do things like showing up at a public business with a colander chapeau. And although this probably doesn't accomplish anything in the vein of opening minds to new ideas or highlighting the subjectivity in tenets deemed fundamental, it's at least pretty funny.
And funny's important, too.
Follow Michael Arbeiter on Twitter @MichaelArbeiter.
[Photo Credit: Niklas Jansson/AndroidArts]
---
From Our Partners:


Bradley Cooper Dancing Is Surprisingly Awkward, Sweaty (Vh1)


Kate Upton Bares All in Nothing But Body Paint: Video (Celebuzz)