Intimate New Kids on the Block Show Marked By Fan Favorites and An Early Jonathan Knight Exit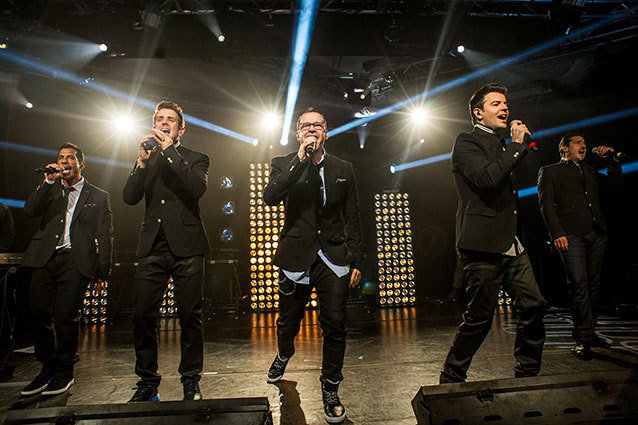 The New Kids On The Block aren't going anywhere. The '80s boy band, whose hits like "Hangin' Tough," "Step By Step," "Please Don't Go Girl," and "You Got It (The Right Stuff)" were pivotal points in growing up for an entire generation of girls, promised during a show in New York City on Thursday that they'll be around for at least another 25 years. Maybe even 50.  
RELATED: Nostalgia Overload! NKOTB, 98 Degrees, and Boyz II Men Are Touring Together 
NKOTB — which you should damn well know is comprised of Donnie Wahlberg, Joey McIntyre, Danny Wood, Jordan Knight, and Jonathan Knight (pick your favorite!) — promoted their new album 10 during a small, intimate iHeartRadio-promoted show for contest winners. The hour-long set, which was simulcast online, was a rollicking, unpredictable night for fans lucky enough to be in the room. The floor was, quite literally, shaking under the quaking feet of grown women (and, okay, a few men, too) who were immediately transported back to childhood with the band's old hits. 
But for a group who has been singing a lot of the same songs for well over two decades and have their choreography down to a science, they turned out a surprisingly stripped-down and on-the-fly set. For just as many new songs as they played for the eager crowd — including "We Own Tonight," "Jealous (Blue)," and "Remix (I Like The)" — the guys engaged in off-the-cuff banter, like deciding which song to sing next, and silly stories, like Joey's admission that he mispronounced the word "choreograph" earlier in the day.  
RELATED: Backstreet Boys Reunion: Our Favorite BSB Memories
The whole show was unpredictable, including when members of the band jumped into the crowd and gave hugs, high-fives, and general life-changing eye contact during their classic "Tonight." But the most unexpectedly heartbreaking moment came for fans when member Jonathan, who has long suffered from a panic disorder, had to exit the stage early in the show. Knight couldn't finish out the rest of the set (despite supportive chants of his name from the crowd) and later simply tweeted "I'm sorry…" 
While his exit certainly shifted the dynamic and mood of the show, McIntyre tried to keep the mood light by joking, "You think we're f***ing serious right now? He just really had to go to the bathroom!" The guys continued to show support for Jonathan throughout and urged fans to soak in (rather, breath in) all the love in the room. 
RELATED: Donnie Wahlberg's Twitpic of NKOTB Will Make Your Inner Tween's Heart Soar 
It was a surreal show, to say the least. Not only was it the closest most fans ever got to their teen idols and their attached boy band personas (Donnie is still ever the bad boy and the most inclined to take off his shirt, Joey is still the cute one with the best voice, Jordan is still the sexy flirt, and Danny is still definitely there) but it was fascinating to watch how they handled a set with no set setlist and a band missing a member.
While fans were audibly disappointed that the guys decided to save all the big surprises for this summer's Package Tour with 98 Degrees and Boyz II Men and that there was no encore, it was an unironically, delightfully joyous, one-of-a-kind experience that merged old with new, and gave fans in attendance bragging rights for the next 25 years. Hell, even 50. 
[Photo credit: Brian Friedman] 
---
From Our Partners:


40 Most Revealing See-Through Red Carpet Looks (Vh1)


33 Child Stars: Where Are They Now? (Celebuzz)