Newtown Choir to Perform During Grammys Red Carpet: Let the Kids Be Kids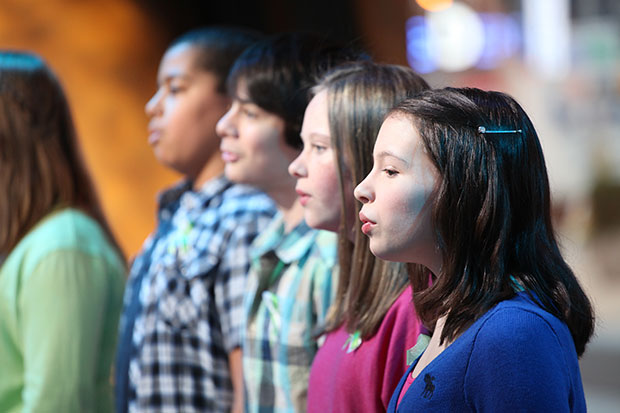 It's been 54 days since 26 people lost their lives to a disturbed shooter who opened fire in the halls of Sandy Hook Elementary School in Newtown, Conn. In the days immediately following the attack, America mourned. President Obama gave a stirring, emotional speech (and shed a few tears of his own), the NFL observed a moment of silence before each of its weekend games, and the normally raucous Saturday Night Live solemnly showed its remorse with a children's choir singing "Silent Night." But now, nearly two months later, the memory of that tragic day is kept alive by trotting the survivors out for us all to gawk at. During a time when these children should start to get back to old routines and rebuild a sense of normalcy in their lives, they are continuously shoved in the spotlight.
The chorus from Sandy Hook Elementary first performed alongside Jennifer Hudson at the Super Bowl, and now, the kids will sing as part of E!'s Live From the Red Carpet Grammys pre-show. E! reports that a group of 21 children from Newtown (only some of whom attend Sandy Hook) will be broadcast live via satellite from their Connecticut locale, singing Carly Rae Jepsen's "Call Me Maybe." They will then be interviewed by Ryan Seacrest, about what one can only imagine. These children are now celebrities because they witnessed a tragedy, and that juxtaposition is more than a little unsettling. 
RELTAED: From President Obama to the NFL: Most Moving Celebrity Newtown Tributes
Before the kids' big Super Bowl debut, Erin Nikitchyuk, a parent of one of the children, summed up the contradictory feelings the performance stirred in her and many by telling CBS, "It's hard to balance the thought that we're being rewarded for the tragedies of those days, but as a friend of mine said, we're layering good experiences on top of the bad experiences we've had with our kids and I think they are healing." Of course she's right. And music, it seems, has been particularly instrumental in helping the children to heal.
Last month, the same chorus that will be showcased on E! recorded a version of "Over the Rainbow" with singer-songwriter Ingrid Michaelson, which is now available for purchase on iTunes (the proceeds for all sales will go to the United Way of Western Connecticut and the Newtown Youth Academy). The children have since performed the song on ABC's Good Morning America and at a benefit concert. The performance on Grammys night, at first glance, seems to be an extension of this musical release.
Newtown teacher Sabrina Post agrees. Speaking of the choir appearances, she told the AP, "This opportunity to do something positive lets the kids know that although a lot of things happen in our world that are not pleasant, like this that happened with us in Newtown, there are many giving people and wonderful things that can come out of life, so don't get discouraged," she said. "It teaches them to use their gifts to work through things." This sentiment is, again, admirable.
RELATED: The 'Too Soon' Dilemma: A Sandy Hook Shooting Movie to Film Nearby Newtown
Tim Hayes, co-producer of the "Over the Rainbow" recording, adds his voice to the chorus of supporters. He tells the AP, "We know the kids involved have had a wonderful experience, but we think this chapter is now done, and we want these kids to get back to being kids." And here, finally, we arrive at the heart of the matter: These kids need to get back to being kids.
While the morning show appearances and New Orleans excursions have surely been exciting for the children, they have prevented the kids from returning to their normal lives. On Dec. 14, the lives of these children changed drastically. Not only did the day's events impact the students emotionally — grammar-school-aged kids were suddenly confronted with a grief many adults are fortunate enough to have never experienced — but also tangibly, on a day-to-day level, when these kids were forced out of their school and in front of national news cameras. How can parents begin to help their children understand that life will one day be able to return to normal if that restoration is continuously delayed? Even if that delay is caused by fun things.
RELATED: Newtown Tragedy: Jon Hamm, Beyonce, & More Demand a Plan in New PSA
But the blame here, of course, doesn't lie with the Newtown families. (What parent doesn't want their grieving child to experience the exhilaration of the Super Bowl or the Grammy Awards? Who wouldn't, like Nikitchyuk says, want to layer happy memories over the terrifying ones?) It is the network's decision to use the chorus as a ratings magnet that is so deplorable. E! knows that viewers will tune in to watch the kids; when the satellite to Connecticut heats up, Grammy red carpet viewers will undoubtedly switch from CBS to E!. And that is exploitive.
Because, you see, the "Call Me Maybe" performance isn't really about the kids. It's not about healing, it's not about happy memories, it's not about music. It's about ratings. For E!, the rest are all just excuses and happy side effects. So let's turn off the cameras, give Newtown some room to breathe, and let these kids get back to being kids. 
Follow Abbey Stone on Twitter @abbeystone
[Photo Credit: Getty Images]
---
You Might Also Like:

Biden? Ford? Surprisingly Hot Young Pics of Politicians

Who Wore This Crazy Hat?

Stars Who Changed Their Look After Love