Four NFL Players May Come Out as Gay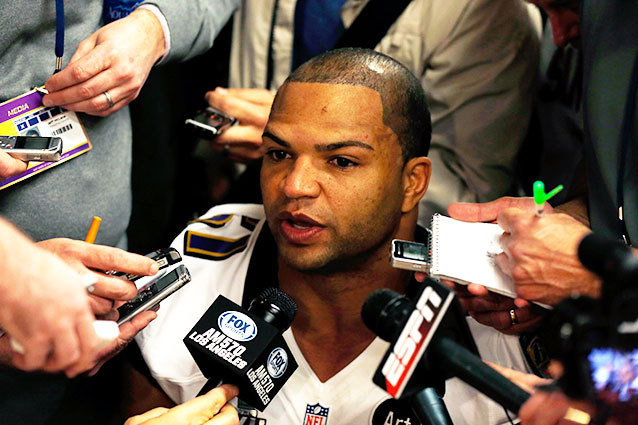 A few weeks back, you might have noticed your Facebook feed begin to flood over with pink and red equal signs — a vocalization of support for gay marriage in the wake of the Supreme Court's neglect to repeal Prop 8. Whatever your stance on the utility of the equal sign movement, it's got to be encouraging to recognize the plateau to which our society has climbed. We live in a time and a place where it is common to see people sharing messages of LGBT tolerance, where ignorance and bigotries that once reigned over the public conscious are lampooned in the mainstream.
Still, there are certain realms in our culture that seem to propagate the backwards mentalities of past, if even tacitly. The industry of professional sports, football specifically, in its mechanical endorsement of "traditional" alpha male bravado, does little to further progressive thought on the subject of sexual identity. Perhaps more than any other American pop culture subset is the NFL wanting for a more positive, forward-thinking atmosphere, which is why the announcement that four yet unnamed individual professional athletes are planning to come out as gay is a remarkable bit of news.
Brendon Ayanbadejo, former Baltimore Ravens linebacker and activist for LGBT rights, has revealed to The Baltimore Sun that "a handful of players are considering" going public with their homosexuality.
RELATED: Jeremy Irons' Opinions on Gay Marriage Are as Bizarre As You'd Think
Ayanbadejo said, "There are up to four players being talked to right now and they're trying to be organized so they can come out on the same day together. It would make a major splash and take the pressure off one guy. It would be a monumental day if a handful or a few guys come out."
Our country's spotlit industries have taken one by one to attitudes of acceptance when it comes to sexual orientation — Hollywood has for some time proved a moreover welcoming empire for homosexual men and women. The hip-hop world recently made great strides when young icon Frank Ocean came out as gay. And this could mark an incredibly important movement for professional sports: a demolition of the identity of the stereotypical athlete.
RELATED: 'Time' Magazine Sexes Up Same Sex Marriege
While it's also backwards and ignorant to slate all the athletes with brands of intolerance and bigotry, there is a definitive portrait offered by the industry itself, one that looks to be stirred by the broadcasting of a homosexual voice from within. Whomever these gay football players may be — the ones directly involved with this movement and all the rest — they can be part of a reconfiguration, an update, an improvement, of America's vision of the professional athlete. This new image will uphold all the same values inherent in sportsmanship, but abandon the limiting outline that the business seems to like to advertise its players to be. Their announcement could change the definition of not only what a professional athlete but what a man can and should be.
This isn't just an achievement for the men involved, nor for athletes or football fans, nor for the gay population. It is another important step in the construction of the new kind of society we've been building for some time: one that doesn't tell you what you should or shouldn't be, and what people like you can and cannot do.
Follow Michael Arbeiter on Twitter @MichaelArbeiter
[Photo Credit: Scott Halleran/Getty Images]
---
From Our Partners


Jessica Alba Bikinis in St. Barts (Celebuzz)


Pics of The Rock Making Things Look Small (Vulture)