Nicki Minaj's Pepsi Ad Will Make Time Stand Still — VIDEO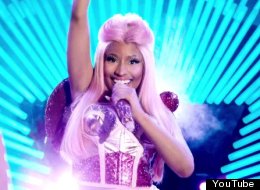 An extended cut of Nicki Minaj's Pepsi commercial made its way online over the weekend, using the singer's "Moment for Life" single as part of its fizzy soundtrack. But, just a heads up, the superstar herself doesn't actually appear in the video until the very end. Instead, the ad chooses to feature a no-name couple who were shown living in a series of frozen moments while Minaj's vocals played on.
So what message are all these freeze frame images trying to tell us? Whether you're just hanging out on the beach with friends or strutting your stuff on the NYC runway, the point of the campaign is to "Live for Now" by never taking a single moment for granted. How do you do that? Drink Pepsi, of course!
Pretty deep stuff for a beverage brand, huh?
As for Minaj's involvement, the company is obviously hoping to profit from the rapper's many followers by showcasing her in the ensemble. Pepsi was recently knocked out of the No. 2 spot by Diet Coke in the top soda ranking system, so they really could use a bit of a popularity boost. Just remember — with great caffeine, comes great responsibility. And the jitters.
Check out Minaj's cameo in the new Pepsi ad below and see if it helps quench your thirst:
More:
Nicki Minaj Signs Endorsement Deal With Pepsi
Nicki Minaj Enters the $3 Million Celeb Fragrance Game