Nigella Lawson Not Airbrushed on 'Taste' Poster. Finally, a Chef Who Is What She Eats.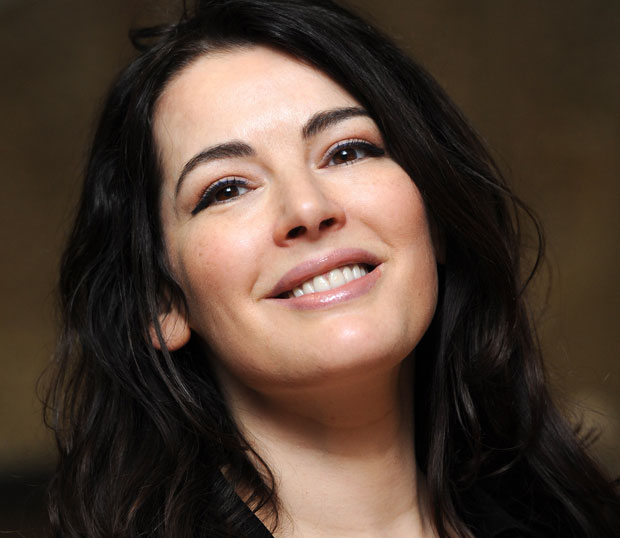 America is a confused nation. On the one hand, we constantly wave our saturated fat flag, consuming calories at a faster pace than we can drive our gas-guzzling SUVs. But on the other hand, we use magazine covers to establish an impossible beauty ideal, celebrating actresses and models who claim they eat three cheeseburgers a day while looking like they eat only one cheese slice.
And this dichotomy is no clearer than on television, where our obsession for food and beautiful people so often collide. For every Paula Deen on television, there's a Giada De Laurentiis and Padma Lakshmi, making us wonder why some, unlike us, aren't what they eat.
So what a refreshing relief to hear Nigella Lawson, the British chef behind Food Network's Nigella Bites, has rejected the option to be airbrushed on the poster for her new ABC series, The Taste, a Voice-style reality competition premiering Jan. 22. Wrote the chef in a blog post Friday, "Although it was very thrilling to think of being up on a billboard in LA and around the States, I was very strict and English and told them they weren't allowed to airbrush my tummy out. Wise? Hmmm. But that tum is the truth and is come by honestly, as my granny would have said. "
Some might scoff at Lawson's anti-airbrush stance — after all, it's easy to have confidence on a billboard when you've already been established as a curvy sex symbol. Still, it's a brave move in a TV food industry that has become as fixated on image as ingredients. A food personality that actually looks like she eats? That's some good news to digest.
[Image Credit: WENN]
More:
'Unflattering' Jennifer Lopez Photo Sparks Controversy: Should She Be Mad?
See Cate Blanchett's Photoshop-Free Magazine Cover
Rihanna: Getting Naked Boosted My Body Image

Craziest Celebrity Swimsuits (Celebuzz)