Are Khloe Kardashian and Game Actually Dating?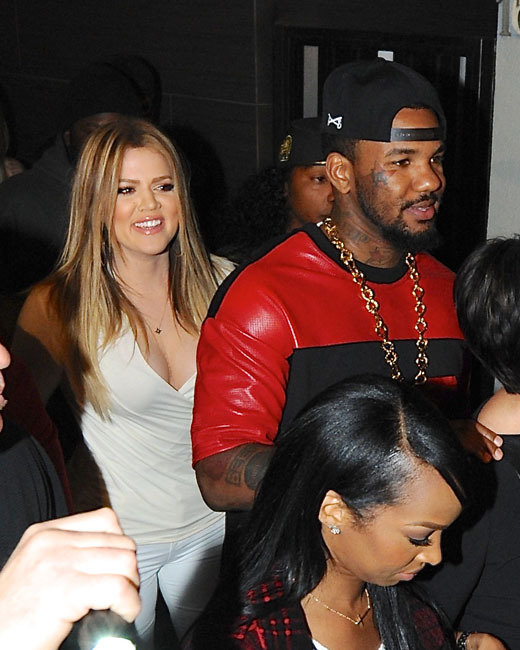 www.splashnews.com
For those of us still lamenting the loss of Khloé and Lamar Odom, these new Khloé Kardashian dating rumors are seriously troubling. New episodes of Keeping Up with the Kardashians have aired recently, showing some of the difficult moments leading up to their divorce. It's incredibly sad to watch, let alone experience. We understand that it's Khloé's life, but there are a few reasons to be completely, totally, morally opposed to the idea of her dating rapper Game. And in case the rumors weren't bad enough, Khloé is now teasing about their relationship (platonic or otherwise) on Instagram:
She posted this the other day with the caption: "I could explain but it's more fun this way @thedocumentary #10PlusYearsandCounting." Now this could be her fun way of explaining that they've been friends forever, but there's no telling. Plus, there was that whole twerking up in the club situation:
So let's adress these dating rumors once and for all.
Khloé & Game
No, this is not going to work. Khloé is great. Game is great. But the mother of Game's children is a super sweet elementary school teacher, and they had that adorable reality show together (Marrying The Game!), and we're going to need them to work it out. #TeamTiffney
Khloé & Matt Kemp
Shortly after her break-up with Lamar was announced, Khloé was linked to Los Angeles Dodgers baseball star (and former boo of Rihanna's) Matt Kemp. Rihanna's cool and all, but we think Khloé can do better than RiRi's sloppy seconds. Just sayin'… Anyway, Kemp denied these rumors a while back, as did Khloé.
Khloé & Nobody… Other Than Lamar
We're pretty much comfortable with Khloé being single, or Khloé being Mrs. Odom again. Is that selfish? Maybe. Do we have any basis for this, other than a reality show, and the cutest Instagram photos ever? No, we don't. But still! If these two could make it work, we would approve. Odom recently opened up about the relationship, and said probably the most romantic thing anyone could say about a woman divorcing them: "I love my wife. She'll always be my wife, no matter what." He also went on to say that the divorce isn't final yet, so who knows?
We're like Odom over here, keeping hope alive for a Khlamar reunion in 2014.
Follow @Hollywood_com Follow @shannonmhouston