No, 'Today' Show, I Will Not Call Myself a Perfume Bottle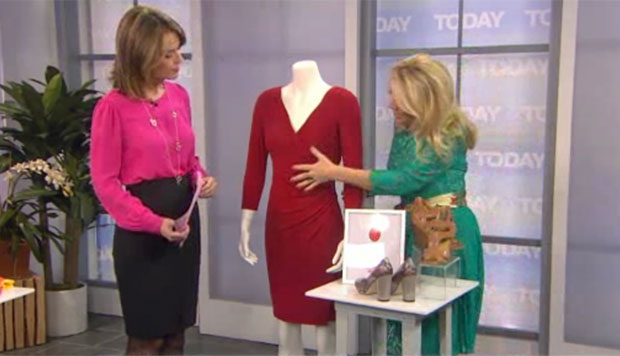 The Today show continues its quest to morph into the world's silliest women's magazine (with occasional serious news breaks). Behold the below clip from Tuesday's show in which style expert Jacqui Stafford gifts us with brand new, extra-cutesified, ways to identify what we hate about our bodies.
RELATED: In Defense of Miley Cyrus: Stop the Slut-Shaming Once and for All
Yes, it's true, ladies: Life is so much better when you can identify with a perfume bottle instead of a pear (that old, outdated way to say you had ample booty). And then you can add an Isaac Mizrahi scarf to your perfume bottle to hide the fact that you're a perfume bottle! Oh, the opportunities for consumption are endless, really. Witness the other objects we are now encouraged to use as euphemisms for our perceived bodily flaws — heart-shaped pendants (really?), cocktail rings (now I'm imagining a woman with a big hole in her middle, but okay), and lipsticks (gosh, I do like lipstick). See? Girly things. Oh, how we girls love shopping and perfume. We understand them so much better than that difficult-to-grasp fruit analogy. What's an apple again?
RELATED: Jennifer Lawrence Talks About Her Weight, Again
Here's why this is great news. Because it underlines the total idiocy of this exercise even more than that antiquated fruit system did. Fruit made it seem healthy. It's not. It's a perfume bottle wrapped in a scarf — one way of indulging our body hatred, wrapped in another. Here are some other ideas: Eat in a way that makes you feel healthy, exercise in a way that makes you feel good, and dress in a way that looks great to you.
There. Solved. Now we can talk about real topics again.
Visit NBCNews.com for breaking news, world news, and news about the economy
Hollywood.com correspondent Jennifer Keishin Armstrong is the author of two forthcoming books, Sexy Feminism (due out in March) and Mary and Lou and Rhoda and Ted, a history of The Mary Tyler Moore Show (due out in May). For more information visit JenniferKArmstrong.com.
Follow Jennifer on Twitter @jmkarmstrong

Oops, Britney Spears Goes Braless Again — PHOTOS (Celebuzz)

30 Hottest Lingerie Scenes From the Past 30 Years — PHOTOS (Celebuzz)