In North Korea, Female Soldiers Wear 4-Inch Heels on Patrol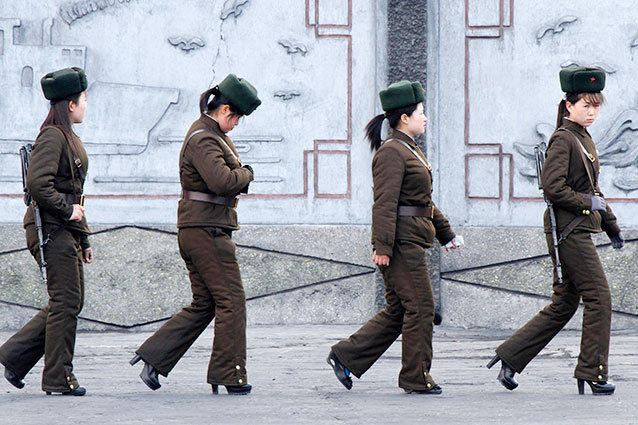 Danger. Mystery. Bafflement. These are all things that we often attach to the discussion around North Korea and its confounding and clandestine culture. "Too obssessed with fashion for their own good" is not. But enter this Reuters photo of four North Korean soldiers patrolling (see: marching around for hours in potentially inclement weather for the purpose of stopping intruders and potentially running, if it comes to that) the banks of the Yalu River across from the Chinese border while wearing heels that would be considered hazardous on a New York City street, let alone a river bank. 
This may seem a little hypocritical coming from a country where people get collagen injections in their feet so they can waltz around in four-inch stillettos all day, but when's the last time a patrolling member of our army could be convinced to do her gruelling duties in anything other than a comfortable (and well-armored) boot? Even our military's dress blues come with a pair of heels so sensible your grandma could probably run a mile in them. 
Look, we're all obsessed with fashion. Most of us wear heels when we probably shouldn't and some of us have gotten used to what it feels like to lose all sensation in our toes for a pair of great pumps, but one thing is for sure: standing for hours in the cold with suits so thick they could stop Old Man Winter in no way calls for boots with four-inch heels, even if they've got those cute little traction pads to give the illusion of practicality.
Follow Kelsea on Twitter @KelseaStahler
More:
'Details' Want to F**k These Stars
Michelle Obama's Emotional Gun Control Plea 
Is it Sexist to Worship Michelle Obama's Look? 
---
From Our Partners:


Eva Longoria Bikinis on Spring Break (Celebuzz)


33 Child Stars: Where Are They Now? (Celebuzz)