Nostalgia Overload! NKOTB, 98 Degrees, and Boyz II Men Are Touring Together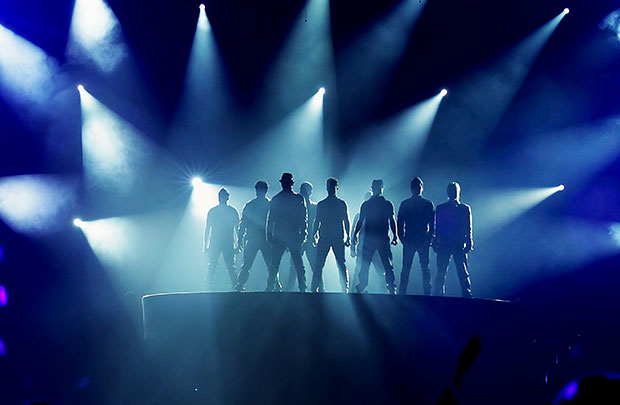 If the constant onslaught of '90s nostalgia (thanks, Buzzfeed!) has been any indication, anyone born in the '80s just finds it way too hard to say goodbye to yesterday. Luckily for the Nickelodeon-raised, Ecto Cooler-swilling members of Generation Y, it doesn't appear to be coming to an end anytime soon. 
To counter the '90s rock super tour lineup that included the likes of
Sugar Ray
,
Lit
, and
Everclear
that hit the road last summer, over on the pop spectrum,
New Kids On The Block
joined forces with their fellow boy band behemoths
Backstreet Boys
to create the ultimate dreamy boy band
NKOTBSB
. Not only did they wind up recording new songs together, but the two groups toured the country singing their classics, sending the jelly shoe and slap bracelet-wearing community into an utter screaming frenzy. 
It seems the NKOTB are hell-bent on bringing back all the boy bands of yesteryear, as it was announced on Tuesday that
98 Degrees
 and
Boyz II Men
will join them on a 28-city tour this summer. (So look out,
Menudo
,
BBMak
, and
NSYNC
; Joey, Jordan, Donnie, Jonathan, and Danny are going to be comin' for ya!) Check out the full list of dates and prices
here
. 
The legendary event, hilariously titled
The Package Tour
, kicks off in Connecticut and tickets for all the shows will go on sale on February 2. Even better, The Package Tour will feature all three bands in their entirety. While the NKOTBSB tour suffered from a severe lack of Kevin, all of the members of 98 Degrees (Nick, Drew, Jeff and Justin, so long as he doesn't get
arrested
again) and Boyz II Men (Nate, Shawn, and Wanya) will be on hand for this nostalgia extravaganza. New Kid
Donnie Wahlberg
said in a statement, "Ladies, we're coming for you. This is going to be the craziest year yet — the single, the album, the tour with 98 Degrees and Boyz II Men … We can't wait to give fans 'The Package!'" Heh. Package. Get it? 
As a child of the '80s who grew up on this music and was the proud owner of a NKOTB Trapper Keeper, I guess you could say I do (cherish this news) and that I'll be hangin' tough until the tour stops in Motown Philly. Now, if you don't mind, I have to go construct a very glittery poster asking for Donnie's hand in marriage. 
[Photo credit: WENN] 
More: 
Donnie Wahlberg's NKOTB Twitpic Will Make Your Inner Tween's Heart Soar