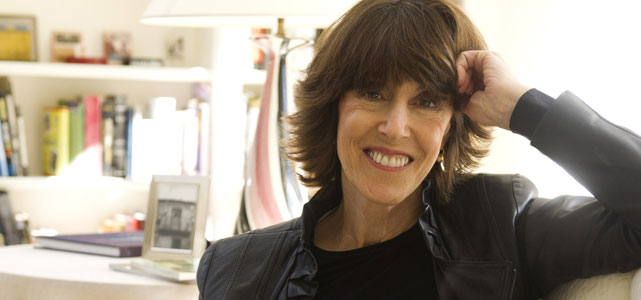 I was at a movie screening a few months ago with a friend. It was the type of theater where the seats have plaques on their backs in honor of their donors. Their lifetime season tickets. When we sat down I immediately recognized the woman in front of us and tried to oh-so-casually motion to my friend to look up and notice. She didn't think much of it. We watched the film and left, where outside I scoffed at her about not being more excited about the woman who was in front of us.
"That was Nora Ephron," I said. She thought it was neat, but that was that. She was not a writer, so I suppose that alters my bias a bit. At that time I had recently accepted via anxious excitement that I wanted to be a screenwriter. This meant I indulged studied everything I watched and called it "research." I became an expert on different styles of comedy and writing, which mostly just meant that, more than anything, I became a little bit more annoying to talk to if you were my friend. I am a sponge, I enjoy being a knower of things and that meant to understand everything, I finally had to delve into romantic comedies. Oh, finally those! After years of being the type of jerk who was too proud to admit to myself (or others) that the films that most deem girlish (as if it is a bad thing) films could be an equally enriching way to spend 90 minutes. And with knowledge of the power Ephron held in her honesty gave me a leg up on discussing their legitimacy as a form. People like to look down on romantic comedies (or any sort of comedy) as not being important because they're not serious. As if liking being happy and having fun is a terrible crime against REAL LIFE. As if there wasn't legitimate real life in the funny bits. But Nora knew; Nora knew so well that real life wasn't just the sad moments, but so much of it in the good, funny, weird, honesty-to-goodness regular ole moments. That real life was honesty, and honesty can sometimes be pretty funny. She had a magical way of sparkling her magic Ephron dust on things and making you see the real life in all of that, and with a laugh out your mouth. And that there was more to all of this.
It sometimes feels like a duty to not only know, but care very deeply about Nora Ephon's work. But like, a really amazing duty. Her movies are a unifying wink to us all that our gaggle of confused emotions are normal, for everyone (aka so hey dudes, come watch and enjoy it's alright we won't tell). They were honest, and they also showed flawed, messy, but ultimately good human beings. Refreshingly so in her women. And she was a woman doing this, as a writer. For movies, for television, for news outlets, magazines — Nora was doing it all and not putting it in a box. She was doing what I wanted to do, how I wanted to do it, and she was a woman. Nora knew it was all important; the muck and the gunk, and the good and the bad. Her industry of choice was predominantly male and didn't much care about making it easier for women to get into. But she showed up, and she made herself a formidable contender in that boys club, and wielded an entire genre in her hand with success.
But even more importantly, she was honest and oftentimes hilarious, sometimes at the expense of herself or those around her. She packed an honest punch with a funny punchline.
And most importantly, she lived. She lived and let that real life influence her films, and in turn influence our lives. Sometimes as simple as a smile, oftentimes with that and much more. She famously wrote: "I try to write parts for women that are as complicated and interesting as women actually are." And she did, in such ways that so many others can't. Or couldn't, or were afraid to. Before her, or before they found her.
I remember standing next to her at a crosswalk when I was in New York on the Upper West Side. I remember being so overtaken by my own gratitude for her work that I tapped her on the shoulder and told her I wanted to be a screenwriter and that her work inspired me to tell stories exactly how I wanted to, and allow characters to be characters. She smiled so warmly and said that it was so nice of me, put her hand on my arm and wished me success. I headed across the avenue and she went uptown. It was such a small interaction that felt like a big one. I was only slightly embarrassed that I stopped a total stranger in the middle of the sidewalk to tell them I like what they do and how they do it.
I never grew up one of those girls that was a fan of romantic comedies. No my predilections were either straight-devious (à la The Craft) or straight comedy, and mostly based in television or books. But when I watched Sleepless in Seattle for the first time, I got it. And then You've Got Mail — with its funny lens on discussing modern relationships. I was converted. Because Nora was giving us what we fully wanted: the complexities of life that might seem mundane, but are ultimately way more interesting. And definitely funnier. I saw something special, something different in what Nora was doing. Something very good; something warm and comforting and honest.
And she lived. She lived so much and did so many things! And we are so lucky to get to have those lived experiences recreated in her movies, essays, books, plays and more. Nora always felt honest. And she always felt fun.
Follow Alicia on Twitter @alicialutes
More:
Nora Ephron, Writer and Director, Dies of Cancer
Nora Ephron Dies: Famous Friends and Fans React
Billy Crystal, Meryl Streep, and More Pay Tribute to Nora Ephron