Now That's What I Call Pharrell!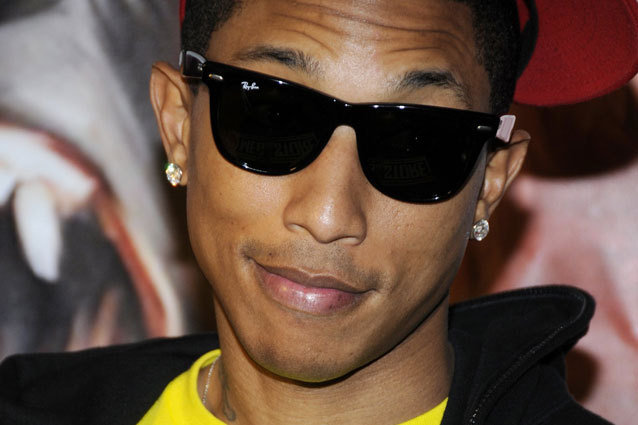 Aaron D. Settipane/WENN
While Pharrell Williams has continued to be as prolific this decade as he was during his '00s heyday, his commercial streak appeared to have completely deserted him. N.E.R.D.'s last album, Nothing, sold less than 20,000 copies in its first week, unlikely collaborations with Mika, Gloria Estefan and The Hives came and went without any fanfare while you had to go as far back as Gwen Stefani's "Wind It Up" in 2006 to find his last Top 10 hit as producer. However, thanks to his contributions on two of the biggest songs of the summer, Daft Punk's "Get Lucky" and Robin Thicke's "Blurred Lines," he's now re-emerged as one of pop's best-loved creative forces. Here's a look at five of the best singles to bear his name on the credits.
Kelis – "Get Along With You"
Williams' production duo, The Neptunes, arguably never bettered their work on Kelis' highly under-rated debut, Kaleidoscope, the highlight of which was this emotionally charged rejection of material possessions which came equipped with an equally stunning Tim Burton-esque video.
Britney Spears – "I'm A Slave 4 U"
A decade before Miley Cyrus' desperately try-hard attempt to distance herself from her teen-pop past, Chad Hugo and Williams helped Britney Spears to make a similar transition look effortless with this supremely sensual slice of R&B which drew comparisons with everyone from Janet Jackson to Prince.
Justin Timberlake – "Like I Love You"
Doing for Timberlake what they did for his former sweetheart, the Neptunes struck gold again with a hypnotic blend of acoustic guitars, spacey electro bleeps and lo-fi beats which immediately positioned the 'N Sync star as a potential King of Pop.
Pharrell ft. Jay-Z – "Frontin'"
Following on from N.E.R.D.'s In Search Of, Pharrell's debut solo single "Frontin'" continued to prove that he could cut it as a frontman too with a soaring falsetto-led vocal which matched perfectly with the slick hip-hop funk production.
Solange – "I Decided"
Having previously worked with Beyoncé on the likes of "Work It Out" and "Green Light," The Neptunes then teamed up with the other Miss Knowles for an impossibly joyous Motown pastiche inspired by the likes of The Supremes and Martha & The Vandellas.
More:
You're So Vain, You Probably Think This Song Is About You
Reddit Hits On Madonna
Bands Who Soldiered On Without Key Members
---
From Our Partners:


40 Most Revealing See-Through Red Carpet Looks (Vh1)


15 Stars Share Secrets of their Sex Lives (Celebuzz)