Keep on Getting Married, *N Sync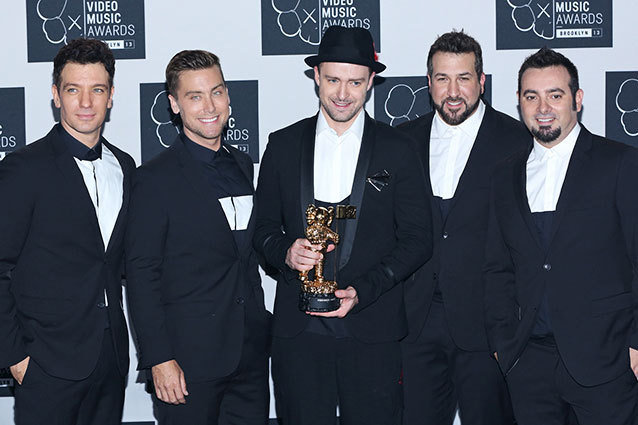 Andres Otero/WENN
We didn't think it was really possible that we'd ever see Joey, Chris, Lance, J.C., and Justin singing and dancing together again. Then the 2013 MTV Video Music Awards happened and the whirlwind of excitement was too much for a classic boy band fan to handle. Sure, the moment was short, sweet, and overshadowed by some lady with a foam finger. But then there were the possibilities. Were they talking about more collaboration? Why did their management snag the @NSYNC Twitter handle? Maybe that 90 second, hastily rehearsed mash-up was just the beginning.
So, there hasn't been a tour announcement. No new albums are on the horizon. But last week, Chris Kirkpatrick got married with all of his bandmates by his side. And maybe — just maybe — that's enough for all of us. 
It's not 1999 anymore, and the "Space Cowboy" mechanical bull choreography probably looks a lot different when a 42-year-old man tries it on for size. But the worst implication of the band's hiatus — we refuse to call it a break-up — was that the guys weren't friends anymore. Boy band fans may get a bad rap for being shallow, and yes, we do appreciate and honor the cute. But it was the camraderie that drove the obsession, and imagining some feud or resentment was just too sad. Now that we know that Justin Timberlake put on a Men's Wearhouse suit and walked Chris's great aunt to her seat, those fears are assuaged.
Dear *N Sync:
We can live without the official reunion, just as long as you guys still hang out every once in a while. And maybe have someone from People there to take pictures.
Love, 
Everyone