Nude Pics of 'Glee"s Heather Morris Surface Online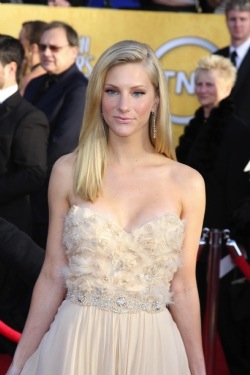 Hollywood is experiencing a nude photo epidemic, with risqué shots of Blake Lively, Scarlett Johansson, Olivia Munn, and Christina Hendricks surfacing in the last year. A surprising number of actresses spend their spare time snapping photos of themselves in various states of undress, and a handful of sleazy hackers will stop at nothing to pry the images out of their phones. The latest victim: Glee's Heather Morris.
Morris posed for some professional nude shots before appearing on the hit FOX show, but it seems the 27 photos that just went up online were plucked from her cell phone. A woman who closely resembles McKinley High's ditzy cheerleader is shown in her underwear, with her breasts and crotch exposed in some images. Morris has yet to comment, but a shot of her posing in her "I'm a Slave 4 U" getup from the show suggests that at least some of the photos are real.
In these situations stars are typically admonished for taking racy cell phone pics in the first place. However, we should probably reserve our judgment for the creeps who keep routing through their phones and humiliating them online.
Source: Zap2it