New York's Sexy Shoe Shine Service Would Make Even Don Draper Cry 'Sexism!'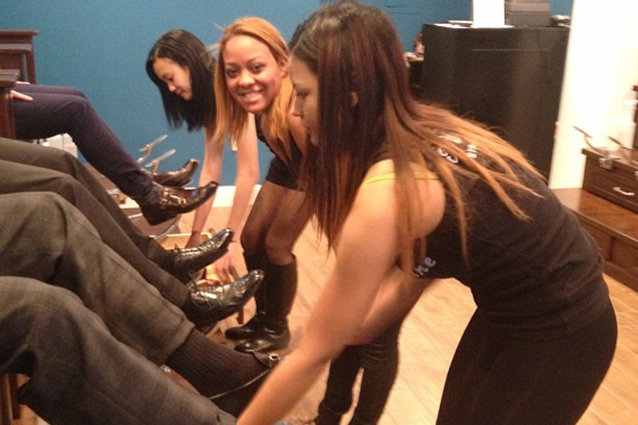 Men, isn't it the worst having someone bend down and clean the filth off of your $500 Prada loafer for you, only to realize your shoe shiner doesn't arouse any of your sexual desires? Wouldn't you rather watch someone whose assets really get your heart rate up while they are literally cleaning the remnants of old coffee, flecks of animal refuse, and the general stench of the city streets off of your precious foot protectors? Wouldn't it be even better if the pretty little things doing your old fashioned bidding wore the logo of the shoe shine company across their tight tank tops and short shorts, thus giving you a "legitimate" reason to oggle their lady parts? Sure it would, if you're more sexist than a 1960s ad man.  
Lucky for the remnants of yesteryear for whom sexism is a fancy word ladies use to get out of doing things, Star Shine NYC is opening in Manhattan's financial distric. And from the looks of the website (via DNAInfo), it's worse than a Hooters — considering it has none of the restaurant's self-awareness or killer hot wings recipe. 
The "Star Shine NYC ladies" have their own page of photos (you know, just like not a single shoe shine booth run by an old, balding man in Grand Central Station), starting with the welcoming shot of one shoe shiner pointing to the logo on her tank top — which also happens to align perfectly with her breasts, but that's definitely not why she's gesturing there. Another photo delivers a shot of one young woman bending over to give a (shoe) shine with the very same logo slapped across her rear. But again, it's not objectifying because all you're doing is reading the name of the business. It's called brand recognition. Geeze. 
These people must be joking. Are we really donning our contemporary booty shorts and roller skating back in time? Why don't we just go back to calling receptionists "Hey, doll, grab me a cuppa coffee" and flight attendants "Sweetheart, this scotch ain't gonna refill itself"? Rule of thumb for starting a new business: If it would appear tawdry even to the characters on Mad Men, you're doing it wrong. 
Follow Kelsea on Twitter @KelseaStahler
More:
North Korean Military Women Wear Four-Inch Heels on Patrol
Mattel Crushes Little Girl's Barbie Birthday Dreams
'Evil Dead' and Tree Rape: Is It Ever Okay?
---
From Our Partners:


Eva Longoria Bikinis on Spring Break (Celebuzz)


33 Child Stars: Where Are They Now? (Celebuzz)