Home
Celebrities
Obama on Romney Controversy: Presidents Have 'to Work for Everybody' — VIDEO
Obama on Romney Controversy: Presidents Have 'to Work for Everybody' — VIDEO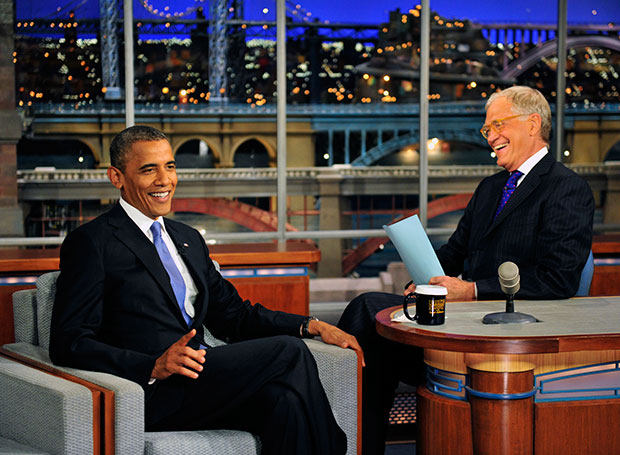 The recently released video of Mitt Romney making controversial remarks at a private fundraiser has come at a particularly inconvenient time for the Republican Party's presidential candidate: right before a scheduled The Late Show appearance for President Barack Obama. The POTUS paid a visit to David Letterman (an outspoken supporter of Obama) on Tuesday night. The pair discussed, among a variety of things, Romney's recent candid camera faux-pas.
On The Late Show, Obama addressed the heavy dichotomy in the voting public's leanings to which Romney referred in the video (in the former governor's words, "There are 47 percent of the people that will vote for [Obama] no matter what."). Obama declared that in 2008, 47 percent of Americans voted for Sen. John McCain for the presidency, adding, "What I said on election night was, 'Even though you didn't vote for me, I hear your voices, and I am going to work as hard as I can to be your president.'" You can watch Obama discuss the issue in the video below.
Additionally, the president touched on his plans to rejuvenate the economy if he gets a second term, lamented how much more impressive he considers his wife Michelle Obama to be than himself, and expressed fatherly woes about his growing daughters. "It worries me," Obama said, "But they're surrounded by men with guns." Every dad's dream.
You can watch the entire interview over at CBS' website.
[Photo Credit: CBS]
More:
Michelle Obama Beat Jimmy Fallon in a Potato Sack Race: Late Last Night
President Obama & Jimmy Kimmel Join the Kardashian-Slamming Bandwagon
From Our Partners:

Blake Lively Debuts Wedding Ring, Kisses Husband Ryan Reynolds — PHOTO
(Celebuzz)

(Celebuzz)