O.J. Simpson Granted Parole…But He Won't be a Free Man Just Yet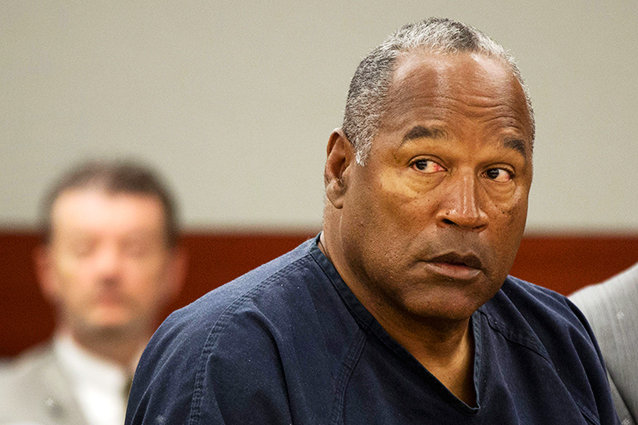 Former football star, Avis spokesman, White Ford Bronco owner, and "Trial of the Century" defendant O.J. Simpson has been granted parole for several of his 2008 robbery and kidnapping convictions. But he's not a free man just yet. Simpson has served five years in prison for holding at gunpoint and robbing memorabilia dealers at a Las Vegas hotel in a move that Simpson claimed was to retrieve some of his personal belongings — or "s**t" as he called it in a recording of the robbery. Those were items he had previously had to surrender over the years following the multi-million dollar civil trial ruling that saw him liable for the 1994 deaths of his ex-wife Nicole Brown Simpson and Ron Goldman.
Simpson has been required to serve the sentences for the charges of which he was convicted consecutively, meaning a maximum prison stay of 33 years. However, with the decision by the Nevada Board of Parole Commissioners today, he will now only stay in prison for six years at the most. In 12 months he will have another parole hearing in which another four years of his time in prison could be shaved off.
The Board of Parole Commissioners cited Simpson's good behavior in prison, his participation in jail programs, and the fact that he's serving consecutive terms as reasons for the decision. You can watch his parole hearing here:
Follow Christian Blauvelt on Twitter @Ctblauvelt | Follow Hollywood.com on Twitter @Hollywood_com
More:
Free at Last! Lindsay Lohan Finally Leaves Rehab
11 Gifs that Show How Teresa Giudice is Really Feeling
How Sydney Leathers Can Go from Monica Lewinski to Kim Kardashian
---
From Our Partners:


40 Most Revealing See-Through Red Carpet Looks (Vh1)


15 Stars Share Secrets of their Sex Lives (Celebuzz)