Olivia Newton-John and John Travolta Reunite for Amazingly Cheesy Christmas Album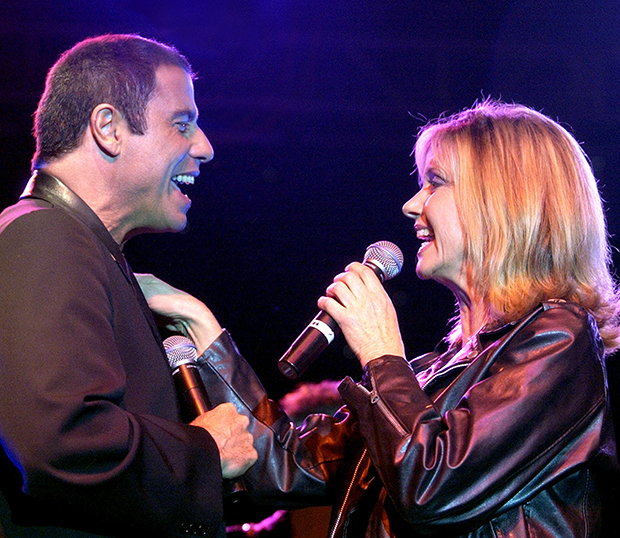 How's this for a Christmas miracle: John Travolta and Olivia Newton-John are collaborating on a Christmas album, featuring special guests like Tony Bennett, Barbra Streisand, and Kenny G. That's right, Danny and Sandy will be together again for the first time in over 30 years, and they'll be singing Christmas carols. Their holiday album, This Christmas, will be available November 13.
Along with the requisite Christmas tunes you expect to hear around the holidays (like "White Christmas" and "Silent Night"), this yuletide album will also feature a new original song from John Farrar, the guy who brought you the iconic Grease anthem, "You're the One That I Want." The new song, "I Think You Might Like It," is a follow-up of sorts to the song that caused Travolta's and Newton-John's careers to skyrocket.
In the spirit of the holiday for which this album is about, Travolta and Newton-John will donate the artist proceeds from the album equally to their respective charities, the Jett Travolta Foundation and the Olivia Newton-John Cancer and Wellness Centre in Melbourne, Australia. So if you do buy this album — out of curiosity to see if Travolta and Newton-John still have what it takes to sing and sell records, out of nostalgia for the good old days of sock hops, T-Birds and Pink Ladies, or out of sheer love of the holidays — you can also check "donate to charity" off your holiday to-do list.
The one fault I can find with this bundle of holiday goodness is the lack of Hannukah songs. I know us Jews don't really have catchy holiday jingles (I mean, there's only so many times you can sing "Dreidel Dreidel Dreidel" before you want to stick pins in your eyes), but they could have tailored the new song to appeal to other religions, too. Hey, if South Park can do it, Grease definitely can. I'm thinking it can easily be changed to something along the lines of "I Think You Might Like The Latkes…" Check out the track list for This Christmas below and sound off in the comments with any glaring omissions you spot.
This Christmas Track List:
1. Baby It's Cold Outside
2. Rockin' Around the Christmas Tree (featuring Kenny G)
3. I'll Be Home for Christmas (featuring Barbra Streisand)
4. This Christmas (featuring Chick Corea)
5. Silent Night
6. The Christmas Waltz
7. Have Yourself a Merry Little Christmas (featuring Cliff Richard)
8. Winter Wonderland (featuring Tony Bennett and The Count Basie Orchestra)
9. White Christmas
10. I Think You Might Like It
11. The Christmas Song
12. Deck the Halls (featuring James Taylor)
13. Auld Lang Syne/Christmas Time Is Here (Medley)
Follow Sydney on Twitter @SydneyBucksbaum
[Photo Credit: Getty Images]
More:
13 Amazon Reviews of 'The Casual Vacancy' Reveal That J.K. Rowling is Tearing Us Apart
Is That Paul Ryan or Nathan Scott? Look Closer.
Joseph Gordon-Levitt and Selena Gomez Want You to 'Vote 4 Stuff' This November
From Our Partners:

Arnold Schwarzenegger's Tell-All Could Be First Step Toward Bid for White House, Writes Ian Halperin — EXCLUSIVE GUEST BLOG
(Celebuzz)

(Celebuzz)