Olivia Wilde Speaks Out Against Sexism in Hollywood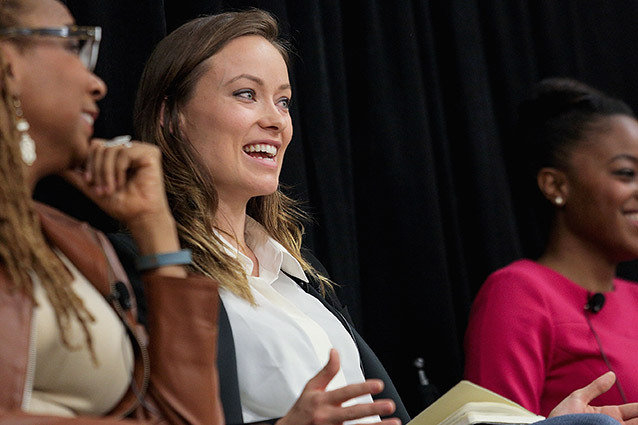 Getty Images
Whether you know her from House, Tron, her raunchy Jason Sudeikis-related quotes, or her Marchesa sparkleball of a Golden Globes dress, there's no denying the fact that Olivia Wilde is kind of awesome. She's awesome for lots of reasons, but chief among them (this month, anyway) is her recent cold-hard-truth-telling about sexism in Hollywood. As a panelist at the State of Female Justice, Wilde was able to distill down just what is wrong with the movie industry.
Yes, she said it, and she said it eloquently – and most importantly, she said it in a way that people are able to rally behind. It makes sense – we know she's smart and well-spoken from the column she wrote for Glamour (girl's good with words!). And her outcry against show business chauvinism delivered with some memorable pearls of wisdom.
She tells it like it is (and drops some Bechdel test truth): "Any woman working at any level in any part of Hollywood will tell you … it's really hard to get a any stories made that are about women … not just women being obsessed with men or supporting men."
She calls out her male peers: "It's really hard to get men to be a part of films that are about women in a leading role."
She rallies her cause: "Movies are made based upon what people areasking for … so really the power is in our hands, and it's really just a matter of asking for it much louder."
And she tells a hilarious and hard-hitting anecdote about a gender-swapped version of American Pie: "It was so fascinating to be a part of this because, as the women took on these central roles – they had all the good lines, they had all the good laughs, all the great moments."
…And she throws some more (delicate) shade on her male peers: "The men who had joined us to sit on stage started squirming rather uncomfortably and got really bored because they weren't used to being the supporting cast."
She talks about some films that got it right: "When we switch the roles, which has been done with movies, many of you probably know already that in Aliens, Siourney Weaver's role was written for a man. In Salt, Angelina Jolie's role was written for Tom Cruise. These things, when reversed, have proven to be just as exciting and entertaining with women in leading roles."
Watch Olivia kick some metaphorical ass here:
Four for you, Olivia Wilde.  You go Olivia Wilde!