Olympics 2012: Highbrow and Lowbrow Conversation Starters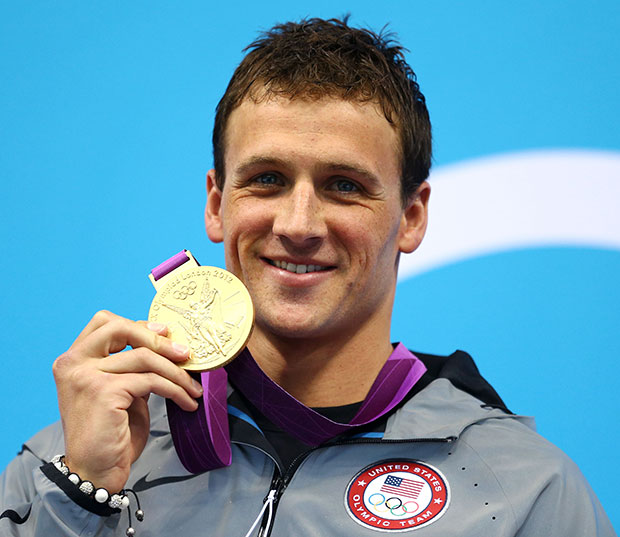 You really can't go anywhere at this point in time without ending up talking about the Olympics. How you discuss the international institution, however, can vary quite a bit. You might engage in conversation about a past victory, or offer predictions of another yet to come. You might deliver diatribes on the hard work and impressive dedication that Olympic competition requires. Or, you might just want to talk about who is sleeping with who. Your call. It's all fair game.
Of course, it is important to be able to differentiate the highbrow from the lowbrow when it comes to Olympic chatter. You don't want to enter a sophisticated analysis of the modern pentathlon with a comment about Tom Daley ripping his own pants off in midair. But fret not: there is a time and a place (and a GIF! Don't forget the GIF!) for that subject matter. Here are a few points for your Olympic convos ranging from monocle-wearing levels of highbrow to some good ol' John Belushi lowbrow.
Highbrow: Famous Firsts
The 2012 Summer Olympics has been garnished with some pretty historical victories. What with this year instituting the new event of Women's Boxing, and Great Britain's Nicola Adams has become the first female to win a gold medal in this Olympic ring. Furthermore, America's Gabby Douglas became the first black woman to win the gymnastics all-around.
Lowbrow: Pool Peeing
Dropping a few degrees in tact from the above topic, you might wish to discuss the hot issue of American swimmer Ryan Lochte's proclivity for urinating in the Olympic pools. Granted, this might also be a historical first, but it doesn't have the same inspiring veneer.
Highbrow: Contenders with Character
As you will learn from this heartfelt article, the U.S. Women's Soccer Team is a class act: a troupe of stand up professionals who inspire the love of sports in those who otherwise might no care. This team exemplifies companionship, cooperation, and terrific sportsmanship beyond the likes of any other, and is truly a source of highbrow conversation.
Lowbrow: Sartorial Situations
While the art of fashion is one that can warrant a vast array of highly sophisticated conversations, this year's Olympics have inspired some more "primal" patter via its showcase of some very skimpy outfits. If the question, "Did you see what she was wearing?" can be answered with the phrase, "Yes, but only by squinting," then you're dealing with a lowbrow issue.
Highbrow: Equine Elements
Seriously, anything about horses is highbrow. The event is called Dressage, and the gold and bronze medal winners are Great Britain's own Charlotte Dujardin and Laura Bechtolsheimer. Talk about classy.
Lowbrow: Romance Rumors
Michael Phelps and Megan Rossee? Rebecca Soni and Ricky Berens? Jessica Harrison and Carole Péon? Whether you're discussing unsubstantiated gossip or long confirmed relationships, everybody loves to chat about Olympic power couples. It might not exactly be highbrow to speak on who is sleeping with who, but it's definitely a great guilty pleasure.
[Photo Credit: Getty Images]
More:
London 2012: How to Create an Olympic Superstar
Olympic Superlatives: The Best and Worst from London