Olympics Round-Up: It's So Hard to Say Goodbye to Michael Phelps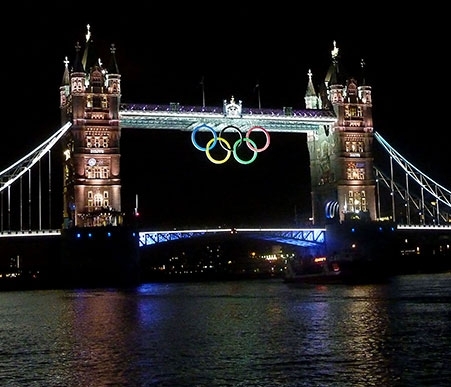 You know that sadness you feel every January when you realize you have to say goodbye to your beautifully decorated Christmas tree? Well, every Olympics enthusiast should be currently nursing a broken heart knowing they have to say goodbye to our beautifully decorated (22 medals!) Michael Phelps, who finished his final Olympic race before retirement Saturday night. Of course, it's misleading to say Phelps merely "finished" the 4×100-meter medley — along with Matt Grevers, Brendan Hansen, and Nathan Adrian, Phelps picked up the gold medal, finishing the race in three minutes and 29.35 seconds, two seconds ahead of Japan's silver medalists. The win marked his 18th gold medal — twice as many as any other Olympian in history. (Take that, Mark Spitz!) That's quite the bling to match with his tracksuit in Boca. Happy retirement! So, though it was difficult to upstage Phelps' legendary career, what were Saturday's other notable, golden moments? Read on!
Missy Hits Her Mark: Olympic breakout and adorable human being Missy Franklin helped the Americans secure the gold during the women's medley relay Saturday. The 17-year-old and teammates Rebecca Soni, Dana Vollmer, and Allison Schmitt locked in a world record to boot, finishing in three minutes and 52.05 seconds, two seconds ahead of the Australian silver medalists. Franklin will be returning to her senior year in high school this fall with five medals. Remember when you thought owning five gelly roll pens granted you bragging rights? Yeah.
Play Misty For Me: In the beach volleyball quarterfinals, that is. Power volleyball couple Misty May-Treanor and Kerri Walsh Jennings have advanced after beating the Netherlands' Marleen van Iersel and Sanne Keizer 21-13, 21-12 in less than 30 minutes. Continue their domination, and the duo could soon be misty-eyed on the Olympic podium.
Maria Sharapova Not so Sharp
: Of course, that was to the benefit of
Serena Williams
, who bested the No. 3-seeded Sharapova in straight sets to win the gold in women's tennis. The 6-0, 6-1 match was an impressive victory for the No. 4-seeded Williams, who has been enjoying an epic six-match run, losing just 17 games. Williams did, however, receive a surprise during her medal ceremony — wind blew the American flag off its pole while the tennis star stood on the podium. Too bad she didn't have a 
Canon PowerShot
 for that photo-friendly moment. 
LeBron Gets LeLucky: LeBron James led the U.S. Basketball team to victory against the Lithuanian team… but just barely. The U.S. team, coached by Duke's Mike Krzyzewski, finished with 99 points, besting their Saturday night rivals by just five points. The team fought back from Lithuania's two-point lead in the final six minutes, winning redemption after a disappointing loss to the team eight years ago during the 2004 Olympics in Athens. James scored an impressive 20 points during the course of the game, while Kris Humphries tuned into a rerun of Khloe and Lamar. 
Worth its Pryce in Gold: Jamaican runner Shelly-Ann Fraser-Pryce sprinted to victory during the women's 100-meter final Saturday, finishing in 10.75 seconds. Good news for her, bad news for America: U.S.'s Carmelita Jeter crossed the finish line just 0.03 seconds behind Fraser-Pryce. Of course, Fraser-Pryce's win was hardly unexpected: The sprinter became the first Jamaican female to win the gold in the same event in Beijing's 2008 Olympics. But, hey, let Team U.S.A. take solace in the childhood mantra: Second is the best!
More golden days ahead for Team U.S.A. — and more days spent indoors in front of our TV screens. Fresh air? What's that? Onto Day 9!
[Image Credit: WENN.com]