One Direction, '50 Shades,' Porn Top Wikipedia's Bizarre Most Viewed List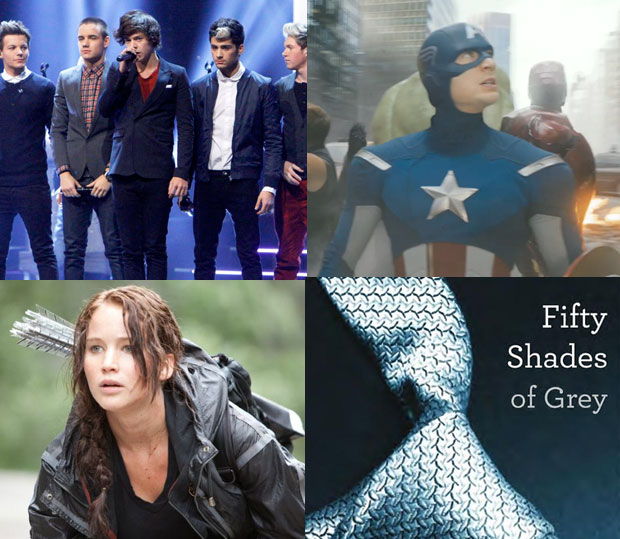 Have you ever accidentally viewed someone's Web History and immediately wished you could unsee it? Well, you might be surprised to see what people all around the world are looking at on Wikipedia. 
Created in 2001, the multilingual site now pulls in about 470 million unique visitors each month. And although the site didn't release an official report itself, a Swedish software engineer named
Johan Gunnarsson
compiled a list of the most viewed pages for 2012 and made the whole fascinating thing public 
here
. 
Not surprisingly, the English list was dominated by entertainment and pop culture. Interestingly, boy band One Direction made the top 10 list in English, Spanish, French, Portuguese, Italian, Swedish and Danish. (Justin Bieber only made the Danish and Norwegian list.)
In German, CBS TV shows were head-scratchingly hot, with How I Met Your Mother, The Big Bang Theory, and Two and a Half Men making the list. In Japanese, a porn actress topped the heap and in Italian, Grey's Anatomy came in at No. 1. How do you say McDreamy in Italian? 
But the real cake-topper of the bunch: the most viewed Wikipedia page in German? Sackgasse, an article about cul-de-sac streets. 
Check out the full English Top 10 below: 
1. Facebook (32,647,942) 
2. Wiki (29,613,759) 
3. Deaths in 2012 (25,418,587) 
4. One Direction (22,351,637) 
6. Fifty Shades of Grey (21,779,423) 
7. 2012 phenomenon (20,619,920) 
9. Google (18,508,719) 
[Photos: Lionsgate; Wenn; Vintage Books; Marvel]

Britney Spears to Be Fired From 'X Factor': Report