The Video for 'Best Song Ever' Is Out, and It Proves One Direction Should Have a Sketch Comedy Show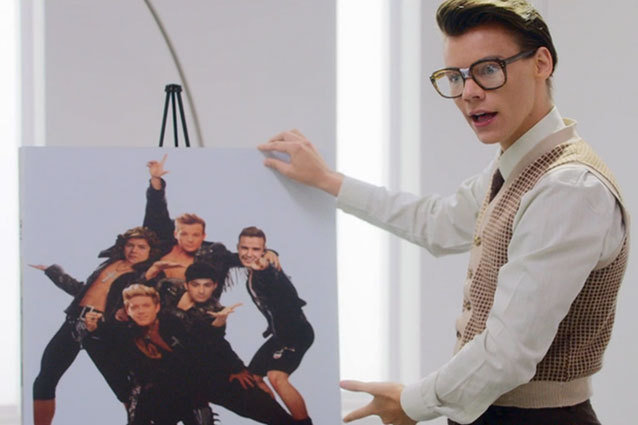 One Direction's video for "Best Song Ever" is out, and it's greater than we could have imagined. Sure, the opening clip has more to do with their movie than with the song, but it doesn't matter to me one iota because it's fantastic. And it proves that there should be a new sketch comedy show starring One Direction (get on that, Nickelodeon).
First off, you've got Louis looking like Tom Cruise in Tropic Thunder talking with an old, slightly overweight Niall about rejecting Angelina because Brad is like a son to him. It's a good bit, and it proves they can do accents, which is always a plus on a variety show. Then you've got Zayn — in drag. It's one thing for a man to dress up as a woman, but Zayn is a surprisingly good-looking woman. And he can flip his hair like nobody's business. (We bet he doesn't know he's beautiful.)
And then there's Harry. He walks in the room in full-on Urkle mode, complete with sweater vest, giant glasses, and whiny voice. Actually, come to think of it, I think I like Urkle Harry better than normal Harry. And just when you thought things couldn't get any better, in struts '80s Dance Workout Liam. He's got a headband, leg warmers, and cutoff jean shorts. The guy's got some nice legs, if I do say so myself.
All of that happens before the song even starts. From there we get Harry hitting on Female Zayn, Urkle Harry looking hilariously distressed at the destruction of his costume ideas, and Louis singing with outstretched arms in the middle of a flurry of paperwork. And I would be remiss if I didn't mention the ridiculous dance moves (stolen from Les Grossman, of course) of the 1D boys and their alter egos.
Now, if you'll excuse me, I'm going to watch the video again and try to come up with a fitting name for the band's inevitable sketch show. 
Follow Jordyn on Twitter @jordynmyah | Follow Hollywood.com on Twitter @Hollywood_com
More:
One Direction's Track 'Best Song Ever' Leaks, Is Pretty Dang Good 
One Direction Drops Trailer for 'This Is Us'
A Directioner Reacts to One Direction's Brand New Movie Poster 
---
From Our Partners


Battle of the Bikini Bodies (Celebuzz)


Complete Guide to Strippers in Movies and TV (Vh1)