One Direction Turns Down Invitation to White House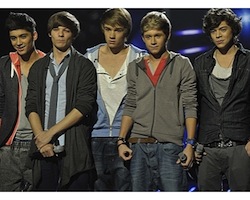 Need more proof that boy bands are officially back? Well, One Direction is so big that even the White House can't book them.
First Lady Michelle Obama (a.k.a. the Best Mom Ever) ran into the British group at the Nickelodeon Kids' Choice Awards on Saturday and immediately invited them to the White House's annual Easter Egg Roll. Though in the past Obama has been able to score meetings with Justin Bieber for daughters Sasha and Malia, One Direction won't be in D.C. on Monday. The band was forced to turn down the invitation "due to prior commitments."
Fortunately there's still hope for the First Teenyboppers. One Direction's rep emphasized that the guys aren't snubbing the Obamas. "It was scheduling that hindered the band from visiting the White House," he explained, adding that the boys "would love" to visit the White House when their U.S. tour kicks off on May 24.