Oprah and Rosie No Longer Speaking:  Report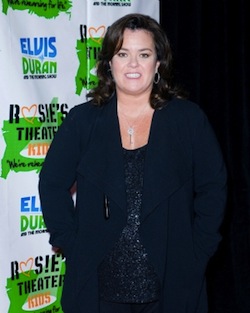 In addition to being a ratings flop, The Rosie Show may have come between two former daytime queens. Last week, Oprah Winfrey decided to cancel Rosie O'Donnell's OWN Network talk show after the ratings took a nose dive. Now sources claim that the two women are no longer speaking.
Winfrey called O'Donnell personally to tell her she was pulling the plug on the show, and a source tells Radar, "It was a very strained conversation, obviously." Supposedly, the tension didn't stop there. The insider claims that Rosie was unhappy with the press release about the show's cancelation because it put all the blame for the program's failure on her. After some squabbling between the two hosts' public relations teams, Winfrey asked O'Donnell to contact her directly. She never got the call. "[Rosie] was having her people do all the dirty work for her," says the source.
If the stars really are feuding, there's no evidence of it in the press release that finally went out. "I thank Rosie from the bottom of my heart for joining me on this journey," writes Winfrey. "She has been an incredible partner, working to deliver the best possible show every single day. As I have learned in the last 15 months, a new network launch is always a challenge and ratings grow over time as you continue to gather an audience. I'm grateful to Rosie and the dedicated Rosie Show team for giving it their all."
Source: Radar