Oprah Reveals Breast Cancer Scare, Talks About the Fate Of 'O, the Oprah Magazine'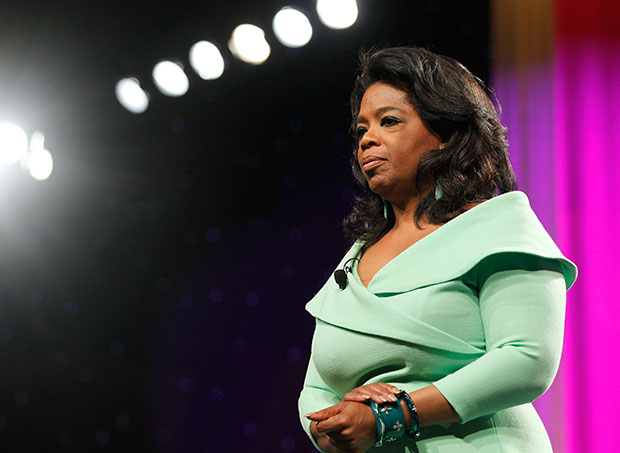 When you're a figure as powerful and prominent in the media as
Oprah Winfrey
, your life is an open book. But even Oprah has her share of secrets that she keeps to herself, even from her BFF/business partner
Gayle King
. 
In the
New York Times
' recent fascinating, insightful peer into the fate of Winfrey's now shaky empire it was noted that the annual
O, the Oprah Magazine
conference last month in Los Angeles had a moment that felt like it could have been lifted from her own show. The 58-year-old revealed for the first time publicly that she had a scare with breast cancer a week earlier. While the scare ultimately turned out to be a false alarm, the news rattled King, who just heard about if for the first time. According to the
NYT
, "When Ms. King grew visibly upset, one woman chided Ms. Winfrey for not telling her friend ahead of time and ordered her to apologize to Ms. King — all before an audience."
But that wasn't the only moment from the conference that put Winfrey in the spotlight and under the microscope. When the subject of falling newsstand sales for
O, the Oprah Magazine
arose, Winfrey said that while she likes holding the magazine in her hand, she would not be opposed to the idea of stopping the publication completely if necessary. As Winfrey bluntly put it, "I'm not interested, you know, in bleeding money." (Of course, Winfrey,
the highest paid woman in entertainment
, would ideally like to keep the magazine going and continue to make buckets of money. "You know, every time I get a check from [the magazine], it's like 'Wow, this is amazing. I get paid for doing this.'") 
The
Times 
article, which describes Winfrey as showing "some signs of strain" and cites another as calling her "struggling," refers to Winfrey's ongoing struggle to stay relevant as her cable network OWN, much like her magazine, didn't take the path originally expected. Despite nabbing high profile interviews with the likes of
Rihanna
and
Justin Bieber
and even reviving her wildly popular
"Favorite Things" episode
, OWN has struggled to bring in the same ratings as her syndicated ABC shows — though luckily for Oprah and her fans, those numbers are improving. Winfrey once said of her decision to switch to cable, "I didn't think it was going to be easy, but I did not know … If I knew then what I know now, I might have made some different choices." 
It's hard to imagine a television landscape without Oprah (it's not hard, however, to imagine if Winfrey were to go by the way of Jay Leno and go back to her old stomping grounds when a failed experiment to branch out didn't go as planned) but it's even harder to imagine a landscape in which she is no longer the media tour de force she once was. That's not to say Winfrey still doesn't hold major clout or pull in an income beyond any of our wildest expectations, but will the personal (like the breast cancer scare) and professional setbacks finally take their toll? Oprah's Next Chapter has never sounded like such a looming question mark.
[Photo credit: Ben Rose/WireImage]
More: