Oscar Pistorius, Olympic Hero, Charged With Murdering Girlfriend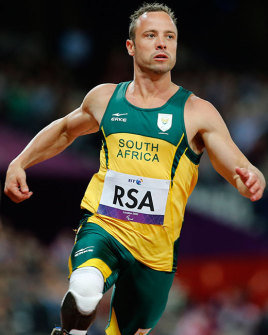 Oscar Pistorius, the Paralympian who made history by being the first to compete in the Olympics in 2012, has been charged with murdering his girlfriend, Reeva Steenkamp.
Steenkamp, a South African model, was found shot dead Thursday inside Pistorius' home, where authorities discovered a pistol. 
While officials have not officially named Pistorius — South African law prevents police from publicly naming suspects until they appear in court — police spokesperson Denise Beukes told media the athlete was at the scene during the murder. "There is no other suspect involved," Beukes told the Associated Press.
RELATED: Do We Need Technology to Break Olympic Records?
According to police, Pistorius, who officials say previously had been involved in several domestic disputes, is cooperating with authorities. Early reports surrounding Steenkmap's death said the model might have been confused for a burglar upon entering Pistorius' home, but police are not yet confirming a motive. "It would be very premature and very irresponsible for me to say what actually happened," Beukes said. "There have been allegations. We are not sure."
CNN reports Pistorius' spokeswoman declined to comment on the charges while his father, Henke Pistorius, told the South African Broadcasting Corporation, "It will be extremely obnoxious and rude to speculate. I don't know the facts."
RELATED: Double-Amputee Oscar Pistorius to Compete in London's Summer Olympics
Pistorius, who at one years old lost both his legs below the knee due to a congenital condition, competed on South Africa's 4×400 relay team at the London Olympics. The athlete, nicknamed "Blade Runner" for his use of carbon fiber blades, also qualified for the 400-meter race at the games.
[Image Credit: Emilio Morenatti/AP Photo]
---
From Our Partners:

Kate Upton Bares All in Nothing But Body Paint: Video (Celebuzz)

Bradley Cooper Dancing Is Surprisingly Awkward (Vh1)