Comedy Doesn't Want to Believe Oscar Pistorius Is Innocent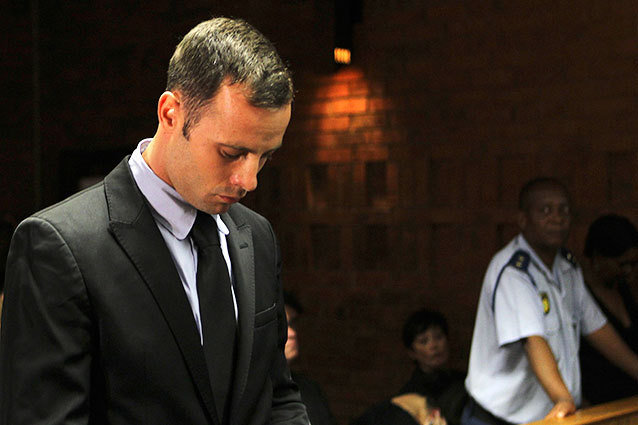 For once, the Oscar that's in the news this February is not a little gold man. Instead, Olympics inspiration Oscar Pistorius has found himself topping headlines after he allegedly murdered his girlfriend, Reeva Steenkamp, on Feb. 14.
Surpisingly, though Pistorius remains the top story less than a week after Steenkamp's death, we're not seeing the same media circus that surrounded and condemned other high-profile athletes in the middle of murder investigations. (See: O.J. Simpson and 2013 Super Bowl champ Ray Lewis.) Perhaps recent details that seem to support Pistorius' mistaken intruder story are keeping many from sentencing him before his court date is even over. Perhaps we've simply matured as a medium. Or perhaps media is still reeling from the alleged crime, feeling it's simply too soon to treat the case with anything but a delicate hand. 
RELATED: Oscar Pistorius: From Hero to Villain in 6 Months
Comedians, however, haven't received that memo. On Feb. 14 — just hours after Pistorius was arrested, and long before he was to get his fair day in court — the jokes began pouring in on Twitter. Michael Ian Black was the first to post this week's commonly heard joke, "From what I'm hearing about this Oscar Pistroius case, he doesn't have a leg to stand on." (Joan Rivers repeated the same rib two days later.) John Cleese received criticism from fans who felt his Feb. 14 tweet, "Oscar's defence will be that he was absolutely legless at the time," was in poor taste. And even the popular e-card service, someecards, celebrated the tragedy with its tweet, "Oscar Pistorius has really raised the bar on avoiding making Valentine's Day plans."
Even as more details of the crime began to emerge, humorists slapped a guilty verdict on the Olympian. Just see The Onion's Feb. 18 story, "Oscar Pistorius Swears Bloody Cricket Bat From Different Murder." And Scottish comedian Frankie Boyle's tweet, which has a laugh at merely imagining Pistorius' innocence: "Having a wee laugh there imagining Oscar Pistorius being found innocent then outraging the world by marrying his gun." And even after evidence in support of Pistorius hit the news Wednesday, Arsenio Hall clearly made up his mind about the athlete with his tweet: "Oscar Pistorius doesn't deserve bail. We knkow he can … and will … RUN! #flightrisk". 
RELATED: Oscar Pistorius Charged With Murdering Girlfriend
Now, this is hardly the first time we've seen comedians make light of a tragic situation. Part of a comedian's job is to help us see the light during dark times. Sometimes it works (see: Jon Stewart's consistently delicate treatment of 9/11) and sometimes it doesn't (see: Gilbert Gottfried's employment-altering Japanese tsunami tweets). But what's remarkable about the Pistorius-centric tweets is how quickly they were posted when the public knew so few details. The athlete was barely in handcuffs before comedians with thousands of followers assumed his guilt in a series of tweets that poured in faster than Pistorious could run 400 meters. 
Which, in turn, could make their thousands of followers assume Pistorius' guilt. Though comedians certainly aren't celebrated newspeople or reliable authorities, it's impossible to claim that they don't influence public opinion. As soon as those first few tweets found their way onto Twitter on Feb. 14, it suddenly became much more difficult for Pistroius — a man who very well could have confused his girlfriend for an intruder — to be found anything but guilty in the court of public opinion (which, as we know, can often influence the court of law). 
RELATED: Reeva Steenkamp's Reality Show Will Still Air, But No One's Shocked
Indeed, it seems certainly true that the genre is hoping for Pistorius to be found guilty of premeditated murder — it's much easier to poke fun at a murderer without legs than a man who tragically mistook the woman he loved for a nefarious thief. (And, as laypeople, it's much easier for us to cope with murder than with heart-breaking tragedy.) But the pressure to keep up with current events with shareable responses often leaves comedians in the same uninformed territory as speed-obsessed, but error-ridden, newspeople: without the facts. 
So, despite what your favorite comedian tweeted about the case, let's not assume Pistorius is guilty until he's proven so. You know that phrase, "It's funny because it's true"? Well, it's only funny if it is indeed true.
[Image Credit: Themba Hadebe/AP Photo]
---
From Our Partners:


Bradley Cooper Dancing Is Surprisingly Awkward, Sweaty (Vh1)


Kate Upton Bares All in Nothing But Body Paint: Video (Celebuzz)