'Lost' Smoke Monster Says No Pope On Second Day of Voting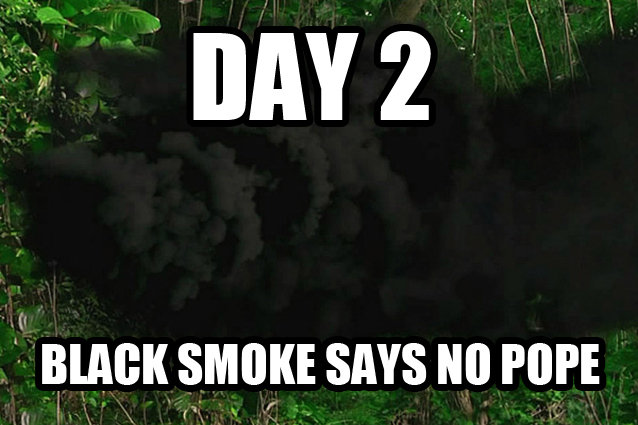 At 11:40 AM local time at the Vatican, black smoke billowed from the chimney of the Sistine Chapel. It's the second day of the papal conclave, and the assembled cardinals have not yet chosen a new pope. 
After a single round of voting on Tuesday evening and two Wednesday morning, no pope has been named. But, according to The Washington Post, it's around this time that cardinal alliances begin to form — how Survivor of them! Vatican spokesman Rev. Frederico Lombardi reminds reporters that no pope since Pius XII (who began his reign in 1939) has been named before the fourth vote. 
RELATED: Pope Benedict Quits the Vatican: 10 Stars Who Quit Hollywood
The cardinals returned to their deliberations at 4:30 PM (11:30 AM ET) on Wednesday after a break — during which time they were allowed to smoke and drink wine in their residential quarters, the Washington Post reports. Which means that this afternoon's secret debate is sure to be much more lively. Go home, cardinals, you're drunk. 
Follow Abbey On Twitter @Abbeystone
[Photo Credit: Hollywood.com]
---
You Might Also Like:


Topanga's Revealing Lingerie Shoot: Hello '90s!


Stars Who Have Lost Roles For Being Too Hot (Celebuzz)