Paparazzo Killed While Snapping Pics of Justin Bieber's Car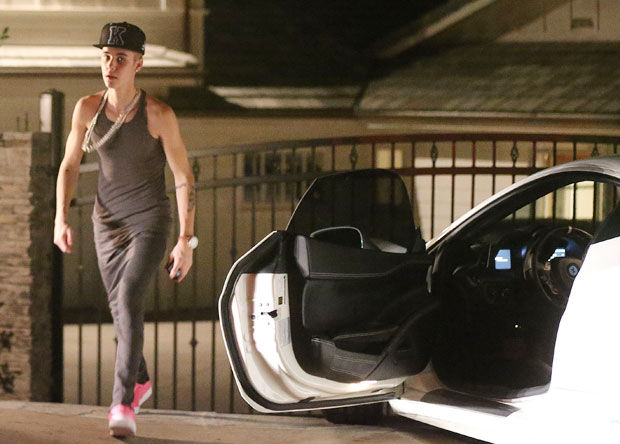 UPDATE: The deceased photographer has been identified as 29-year-old Chris Guetta. The driver of the vehicle who struck Guetta was a 69-year-old woman, not a 29-year-old as previously reported. The Los Angeles Times reports that it is unlikely she will face charges regarding the incident.
EARLIER: A photographer was killed after being hit by a car while attempting to snag photos of Justin Bieber in his white Ferrari on Tuesday evening in Los Angeles. Bieber, however, was not in fact inside his car, which he had loaned to a friend.
According to the authorities, the photographer arrived shortly after Bieber's car was pulled over by the California Highway Patrol, the Los Angeles Times reports. The photographer was struck by an oncoming car as he crossed Sepulveda Boulevard back to his own vehicle after snapping some shots of Bieber's sports car. Police tell the Los Angeles Times that the 29-year-old driving the offending car is being interviewed but no arrests have been made.
The New Year's Day tragedy has reinvigorated the debate surrounding tighter laws regarding paparazzi's access to celebrities. Following a high speed car chase involving Bieber and a paparazzi in July, Los Angeles city councilman Dennis Zine, who is in favor of harsher punishments towards photographers who break the law while trying to get their golden shots, told CNN the incident was a "tragedy waiting to happen." As of Tuesday, his prediction came to pass.
In a statement issued to CNN, Bieber expressed his hope that this will be a wakeup call for paparazzi engaging in dangerous and unlawful behavior. "While I was not present nor directly involved with this tragic accident, my thoughts and prayers are with the family of the victim," Bieber says. "Hopefully this tragedy will finally inspire meaningful legislation and whatever other necessary steps to protect the lives and safety of celebrities, police officers, innocent public bystanders, and the photographers themselves."
Miley Cyrus, who is also a target for intense paparazzi scrutiny, tweeted her support of stricter legislation on Wednesday. "Hope this paparazzi/JB accident brings on some changes in '13 Paparazzi are dangerous! Wasn't Princess Di enough of a wake up call?!" [sic] she writes.
Follow Abbey Stone on Twitter @abbeystone
[Photo Credit: FameFlynet Pictures]
More:
Justin Bieber Angers the Philippines and Hamster Association (Which Exists)
Rest Easy, Justin Bieber Fans: The Murder Plot Against Him was Thwarted
Turns Out, Canada Is Sick of Justin Bieber, Too

'American Idol' Winner Hospitalized After Head-On Car Crash

20 Hottest Bikini Bodies of 2012: Katy Perry, Miley and More!