Patrick Schwarzenegger Wants Taylor Swift's Pal, Miley Cyrus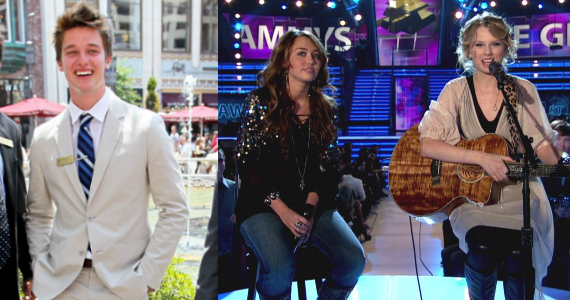 For being such a smart, talented girl, Taylor Swift has phenomenally bad taste in men. 
Well, now, the 22-year-old Grammy winner/wounded puppy is cozying up to Arnold Schwarzenegger (the king of bad relationship decisions) and Maria Shriver's 18-year-old son, Patrick Schwarzenegger. 
The duo were spotted hugging and laughing on July 4 at the Kennedy compound in Hyannis Port, Mass. And a source tells Us Weekly the pair are "getting to know each other, but she thinks he's cute!"
But Swift could be in for another round of sad songwriting. Not that long ago, in a Details magazine interview, the young Schwarzenegger told the mag he was interested in some other hot young starlets. 
"Patrick cockily refers to his tweet-mates Kendall Jenner and Selena Gomez as 'girls for the future.' 'My eye, though,' he adds, 'is set on Miley.'"
Gomez, of course is a long-time Swift friend and she's had a love/hate friendship with Miley Cyrus for years. 
On the bright side: this could take the spotlight off of John Mayer for a while. 
More:
Miley Cyrus Can't Keep Her Clothes On: Six Degrees of Naked
Taylor Swift and Tebow: Their Post-Oscars Dinner DateJohn Mayer on Ellen: Officially Not a Jerk Anymore — VIDEO