Patti Smith Has Penned a Follow-up to 'Just Kids'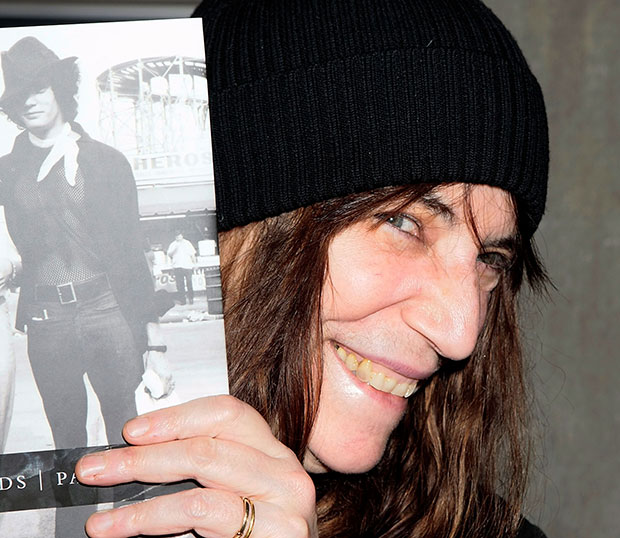 Here's some news that should be music to every music and book lover's ears and eyes: Patti Smith's fascinating, touching 2010 memoir Just Kids — which chronicled her relationship with photographer Robert Mapplethorpe in New York City and rightly earned her the National Book Award for Nonfiction — is getting a follow-up.
The singer-songwriter recently told Billboard that she's writing a sequel to her New York Times bestseller that will be "more of the Just Kids vein and even in the similar time period, but shifts more to family, (her late husband) Fred [Smith], music. So it's a different perspective. Just Kids was very focused on Robert and my relationship with Robert and wanting to be an artist, and the next book will be more, perhaps, music-based."
Smith, who says she's "social security age, but … far from retiring" (for the record, the rocker/author, is 65), promises that, like Just Kids, the new book focus on her personal experiences, rather than taking the form of your standard famous person's tell-all. "I don't have a big rock 'n' roll lifestyle, a sex, drugs and rock 'n' roll story to tell," Smith tells Billboard. "I think I have maybe a better story. Through rock 'n' roll I traveled the world, worked with my late brother (Todd) and, best of all, that's how I met Fred. It changed my life in many unexpected ways, so I have my story to tell."
In addition to writing the Just Kids sequel, the busy Smith is not only recording music for shows like Boardwalk Empire, but continuing to tour. Smith's story continues to be a fascinating one, with a wealth of material. In other words, that new book can't come out soon enough.
[Photo credit: Matt Kent/WireImage]
More: 
Staff Picks: The 10 Best Books of 2012 (And 5 That Pretty Much Sucked)
Does J.K. Rowling's 'The Casual Vacancy' Really Need to Be Banned?
'The Hobbit': 6 Biggest Changes From J.R.R. Tolkien's Novel

25 Things You Didn't Know About 'Aladdin' (Moviefone) 

'Jack Reacher': The Beginner's Guide To The New Tom Cruise Movie