Patton Oswalt Continues to Dominate the Internet with 'Batman' Parody and 'Star Wars' Filibuster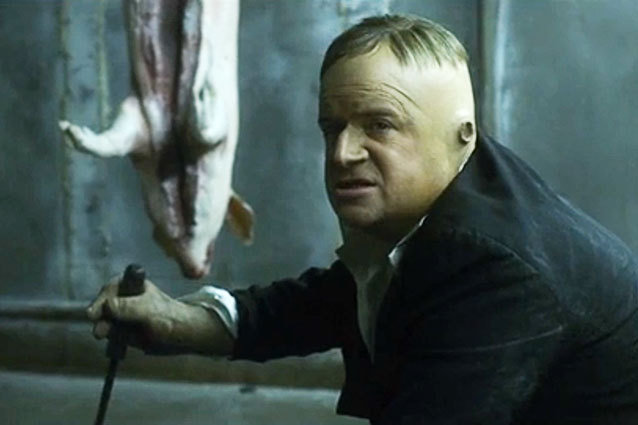 At this point we should just hand the key of the Internet over to Patton Oswalt, shouldn't we? The actor/comedian — whose heartfelt, wonderful Facebook post about his feelings on the horrific Boston bombings touched a nerve with a mourning nation went viral — also currently has two hilarious, nerdy clips circulating on the web. 
When he's not making you get choked up with his wise and compassionate musings on a national tragedy, Oswalt is known for his pitch-perfect comedic delivery and geeky pop culture aficionado. So lucky for him (and us), he recently made two videos that encapsulate both of those things. 
The first is a new College Humor sketch, in which Oswalt plays the villainous Penguin in a Batman spoof. In the bit, the Penguin finds out, much to his horror, that Batman — who always brags about not killing anyone — actually has no idea what death is. Of course, the harsh lesson in violence and death ends far worse for the baddie the Penguin than it does the superhero. 
The five-minute clip isn't quite on par with most Funny or Die segments, though it certainly has its moments (this Batman does a great impression of Christian Bale's absurdly raspy Caped Crusader), but its Oswalt's stunned reactions to Batman's utter stupidity that truly make this thing work. (After all, some of Oswalt's best comedy is when he points out sheer ignorance. Case in point: his famous "Sky Pie/Sky Cake" stand-up segment). Watch the rather NSFW video here: 
While Oswalt's appearance in the College Humor parody is great, this astounding, improvised nearly 9-minute rant about Star Wars on Parks and Recreation is stuff of legend. It's almost hard to laugh at this clip because your jaw will be dropped the entire time due to your marveling at how quickly he's waxing poetic about Star Wars in his filibuster at Pawnee's City Hall. 
Oswalt, who makes a cameo on this week's episode of the NBC comedy, may not get to go back and kill George Lucas with a shovel, but this outtake might just do the trick. Check out the entire stunning motor-mouthed rant unfold below. You'll be cheering for an exhausted Oswalt ("I literally have no fluid in my mouth, I gotta do a Marco Rubio, can we please cut?") just like Amy Poehler does at the end. 
More: 
Patton Oswalt's Reaction to Boston Tragedy Reminds Us What Makes a Truly Great Comedian 
Patton Oswalt Shares Beautiful Thoughts In Wake of Boston Marathon Tragedy
Celebs React to Boston Marathon Blasts on Twitter

---
From Our Partners


Jessica Alba Bikinis in St. Barts (Celebuzz)


Which Game of Thrones Actor Looks Least Like His On-Screen Character? (Vulture)