Pauly D Would Like Us All to Know He's Still DTF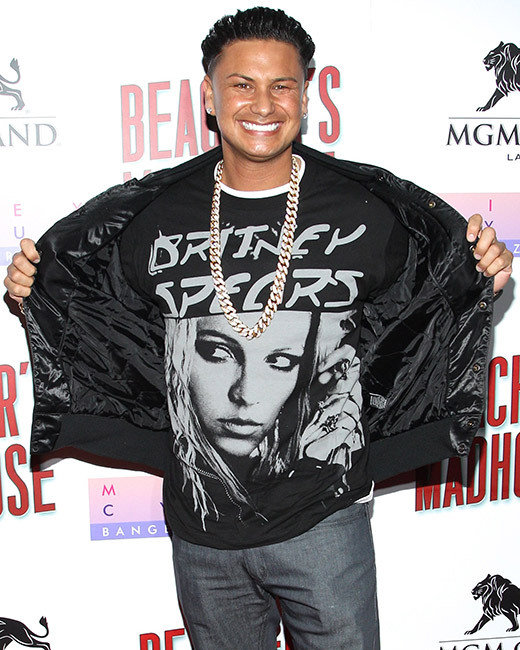 www.splashnews.com
In news that may or may not have a significant effect on your life, former Jersey Shore star Pauly D has been speaking out about his new experiences as a father. He recently found out that he'd actually created an entire human being with a young woman he hooked up with in Las Vegas. Although there was the prerequisite babymama/babydaddy drama at first, Little Amabella (now six months old) has been spending some quality time with Papa Pauly and he seems to be enjoying his newfound responsibilities. He recently told Us Weekly that he was nervous when he first met Amabella, but it has also been an amazing experience, and he feels like he knows what he's doing. He's also taken to Twitter to share some proud papa moments.
But here's the scary part. This whole being a dad thing has not been as transformative as we might have hoped. Pauly also says that, in spite of it all, he's still very much DTF. Who cares that one time his crazy one-night-standing got him a whooole lot more than he bargained for? He is not ready to give up the lifestyle, though he did say that he'll be using protection from now on… so there's that. We're not trying to put a stop to Pauly's lifestyle, we'd just like to point out that with Snooki being a mom, and JWOWW preggers, and Pauly D a new Dad, there are more post-Jersey Shore babies than we can really handle. And while it should be said that Snooki surprised everyone and got her stuff together once little Lorenzo showed up, these kids are still going to be up against a lot (like the trauma they will surely experience upon first watching the show years from now, which will hopefully be followed by acceptance of their parents' former life, and then forgiveness).
So here's hoping Pauly D sticks to his guns and uses protection… on top of protection. Let's everyone proceed with extreme caution.
Follow @Hollywood_com Follow @shannonmhouston