5 Awesome Things About Peter Dinklage Revealed in His 'Playboy' Interview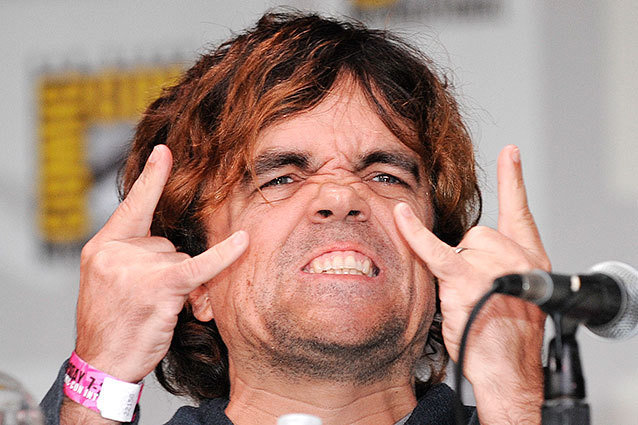 Anyone who's seen Peter Dinklage act, or even heard him speak in that withering baritone of his, knows he is awesome. But the Game of Thrones actor seems to have mastered the Playboy Q&A as well as he's mastered playing a dwarf nobleman with a nutso royal family and a soft spot for prostitutes. Here, just five of the many wonderful tidbits his interview reveals — but you should read the whole thing:
1. He does not enjoy swordplay. "There's a scene in the show when I chop a man's leg off from behind. The gentleman was probably about 70 years old. They filmed him from the back, so you don't see how old he is. Also he's an amputee. He had one leg, so basically I just knocked out the fake leg. I had a big dull sword, and I knocked a wooden leg off an amputee who was 70 years old. So to answer your question, no, I don't feel like a badass. The fight scenes are all a big lie. The whole time, you're trying not to get hit in the eye with a sword, and you wish you had on a welding helmet."
2. He does not, in fact, "get so much pussy," despite a video on YouTube speculating that he does. "By 'pussy' do they mean actual pussy? Or is it a metaphor, like for gardening? Because if that's the case, then yes, I've been doing a lot of gardening lately. If they mean sex, they might be getting me confused with somebody else. But if pussy means wearing old-man sweaters and watering my herb garden, then absolutely, I'm getting so much pussy."
3. He does not see himself as a sex symbol, nor even believe others do. "Honestly, I think there's an irony in all of this. I take it with a grain of salt. They'll say, 'Oh, he's sexy,' but women still go for guys who are six-foot-two. It's nice that people are thinking outside the box, but I don't believe any of it for a minute." [Editor's note: He is sexy.] 
4. He's developing a biopic of Fantasy Island star Hervé Villechaize as a possible role for himself. "We're very different personalities. He had a desire that was definitely thwarted by the world, but I'm fascinated by him. He was quite outrageous. My friend, the movie director Sacha Gervasi, has been working on the script for a while, basing it on an interview with Hervé he did when he was a journalist. A magazine hired him to do a puff piece, but they ended up talking for hours. At one point Hervé pulled a knife on Sacha. He was like a pirate, an incredible character. Hervé killed himself about a week later, so Sacha realized the interview was actually a suicide note. It's a terribly sad tale, but there's something fun about getting into the skin of a guy like that, pretending to be him for a few months."
5. He and his brother did puppet shows for their neighborhood in New Jersey. "We basically did little puppet musicals with the loudest songs we could find. We did a puppet version of Quadrophenia, the Who album. We made drum kits out of tuna fish cans. It was fun. We would have haunted houses too. My brother, who's a violinist now, was the real ham, the real performer of the family. His passion for the violin is the only thing that kept him from being an actor."
Hollywood.com correspondent Jennifer Keishin Armstrong is the author of Sexy Feminism and Mary and Lou and Rhoda and Ted, a history of The Mary Tyler Moore Show, due out in May. Visit her online at JenniferKArmstrong.com.
Follow Jennifer on Twitter @jmkarmstrong 
More: 
'Game of Thrones' Cast Begs Author for Their Lives  
New 'Game of Thrones' Teaser Teases… Not A Lot 
'Game of Thrones' Season 3: The War Begins 

---
From Our Partners:


Eva Longoria Bikinis on Spring Break (Celebuzz)


33 Child Stars: Where Are They Now? (Celebuzz)