Petraeus' Partner in Scandal: Why Paula Broadwell's Indiscretion is So Curious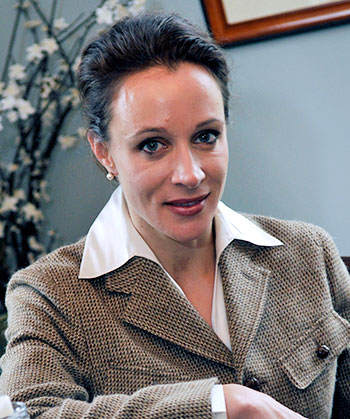 Fans of military and political literature likely know the name Paula Broadwell for her book All In: The Education of General David Petraeus, a biography of the man who until this weekend was the head of the Central Intelligence Agency. Those who knew of Broadwell knew her as an accomplished woman: ridiculously well-educated, worldly, motherly, and outrageously driven. Now, the world knows her as one thing: the sexy younger woman in a scandal. She may as well be the desperate [insert miscellaneous job description here] at the start of a Katherine Heigl rom-com, pining after the unattainable object of her affection. She could be the sexy, alluring journalist, the forlorn woman lusting after a powerful man, or even the irresistible grad student who's a little too hot for teacher (or distinguished General). Unfortunately, even in politics, the broad strokes of pop culture often prevail. The problem is that while pop culture gives us a few buckets in which to dump Broadwell, in reality, she's nothing like those women and perhaps that's why she's become so interesting to us.
Once considered someone so accomplished that her résumé practically needs to be presented as novella, Broadwell is now known as little more than a lovesick schoolgirl, enduring the treatment of your average celebrity home-wrecker. Just this morning, The New York Daily News uncovered a photo from Petraeus' Senate Select Intelligence Committee hearing on the General's nomination for the director of the C.I.A., pointing to the smile on Broadwell's face as Petraeus and his wife, Holly, walk past and characterizing the look as "locked on to her target like a Smart bomb." Many depictions of the author have focused on her physical beauty, referring to her fashionable wardrobe, toned arms, and her past status as her high school's Homecoming Queen.
Of course, part of the blame goes to the thing that broke the story in the first place: Broadwell's emails to the Florida woman who brought the emails to the Federal Bureau of Investigation's attention. According to The New York Post, the emails included such high school girl fight hits as "back off" and "stay away from my guy," rendering Broadwell a character not unlike Erika Christensen in Swimfan with a touch of Bridget Jones desperation. In the wake of the scandal, encounters between Broadwell and Petraeus have been described as "disconcerting" or "inappropriate." One aide noted that Broadwell seemed to have special candor with the General. "Those who worked for him never tried to leverage our relationship with him. It seemed to a lot of us that she didn't have that filter," the aide told The Washington Post.
The result is a depiction that is expectedly unflattering, even if it is incomplete. She is, after all, a married woman who had an affair with a U.S. official. But in just a few short days, Broadwell lost her reputation as the woman who had it all, as Inspired Woman Magazine touted in February 2012: "Finding a balance between her professional and personal life is something Broadwell seems to excel at, just like everything else she attempts." She has multiple degrees hailing from Westpoint, Harvard's JFK School of Government, and the University of Denver's school of International Studies, in addition to being a research associate at Harvard's Center for Public Leadership and a doctoral candidate. The proceeds from her book on Petraeus, titled All In, were donated to a cause she's worked tirelessly to support: benefits for injured veterans of the war in Afghanistan. Even as she endures a scandal, she's still showing her proclivity for charity, giving her chance to participate in a charity parachute jump to veteran David Bixler, who lost both his legs in Afghanistan. But now, she's "the other woman." And unfortunately, the picture most of us have seen of the "other woman" is one that reeks of desperation, loneliness, and pining, while her partner in crime is merely "disgraced."
Yes, Petraeus is enduring his fair share of shame – losing his post as the head of the C.I.A. isn't exactly a slap on the wrist – but he's not the one who was caught sending juvenile emails. The former C.I.A. director has been displayed as regretful and one who hangs his head in shame while Broadwell's persona is that of a swooning teenager, mooning over her idol.
But, despite the boxes our pop culture experience provides for women in Broadwell's situation, she truly doesn't conform. In reality, she's 40 years old. She's in the thick of her career. She's got two grown children. She's not exactly a desperate singleton racing after an impressive public figure. She's pretty extraordinary herself. Unfortunately for the author and accomplished scholar, there's no pop culture box for the kind of woman she's become in the wake of this scandal and that makes her all the more fascinating, which means her days as the focus of our ardent attention are far from over.
Of course, now that we've established that she's not some wine-guzzling sad singleton chasing a married man, like the character even Homeland's genius Carrie Matheson is sometimes reduced to, what we're faced with is a much harsher reality. Someone who had it as good as Broadwell did can still find herself in a compromising situation. It brings the issue a little closer to home when the comforting and often comical illustrations of the other woman are rendered pretty useless. Suddenly, those broad pop culture strokes are feeling a little less like a disservice and more like a security blanket. 
[Photo Credit: The Charlotte Observer/AP Photo]