Pharrell Made a 24-Hour Music Video for His Song 'Happy'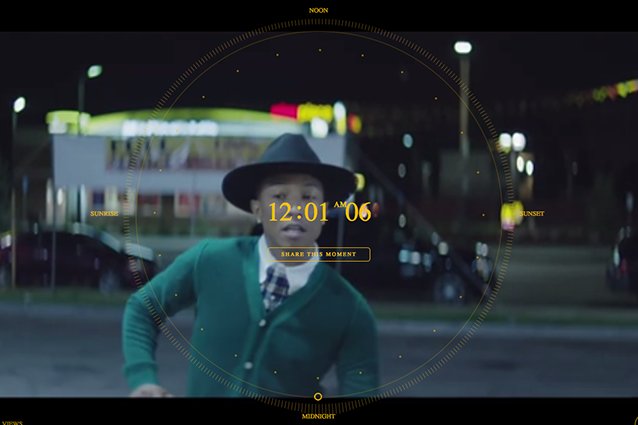 24hoursofhappy.com
It's November and the days are getting shorter, which means everyone feels a lot more tired and cranky than they do in the warmer months. Luckily, Pharrell is looking out for us and he has released new music video for his song "Happy" to help get you through the workday. And the commute home. And dinnertime. And getting ready for bed. And waking up tomorrow morning. The video runs for a full 24-hours, with the upbeat track on loop all day and all night long. 
Every four minutes, a different person or group of people dances their way around Los Angeles, singing along to Pharell's song to show off their good mood. The video stars a mix of unknowns and big names, with celebrities like Tyler The Creator, Earl Sweatshirt, Jimmy Kimmel, Steve Carell and some of Despicable Me minions — fitting, since "Happy" was written for the film's recent sequel. Pharrell himself makes at least 24 appearances, and since the site is fully interactive, appears every time you click to switch over the the top of a new hour. In addition, visitors can shuffle through each video individually, in order to find the segment they like best. 
Although "Happy" is the first 24-hour video ever made, it's the second interactive music video released this week, after a video for Bob Dylan's "Like a Rolling Stone" that allows the audience to flip through television channels went viral recently. Pharrell also released four-hour, non-interactive segments of his video on YouTube, one of which you can check out below. Then, click on over to watch the whole video in all of its cheerful, looped glory, and dance your way through the rest of the day.