Phillip Phillips is at 'Home' on Billboard Charts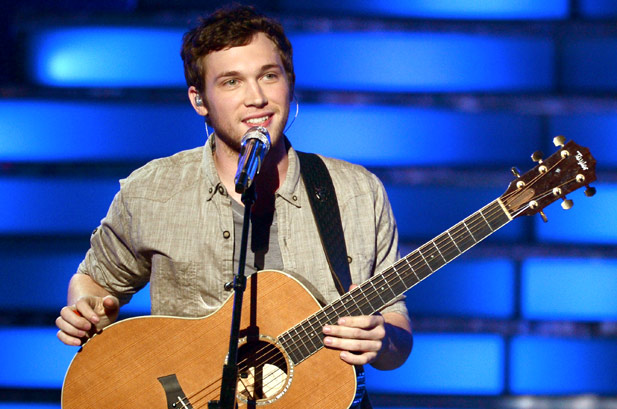 This season's American Idol winner, scruffy-voiced folk crooner with the repetitive name, Phillip Phillips, has done his fans proud–landing comfortably in the number 2 slot on the Digital Songs chart this week, according to Billboard. The song "Home" was a fan favorite, which beat out two of his other songs on the Digital Songs chart (No. 41's "We've Got Tonight" and No. 54's "Volcano"). The impressive feat is made even more so, as  Phillips' had the second-best digital sales week for an Idol contest, ever. Kelly Clarkson's "My Life Would Suck Without You" holds the top honors with 280,000 downloads.
Phillips' good news comes on the heels of a postponed kidney surgery, as the winner suffered with pains from the a serious congenital kidney condition. Poor PhiPhi (is anyone calling him that yet? Oh, OK.)! Hopefully this good news will put him in better spirits.
The track is certainly the least Idol-y of the recent debut tracks from performers past, though it still contains that 'beating the odds' ballyhoo that they seem to favor over at Camp AI. For those living under the rock that is Idol Avoidance, Phillip Phillips' "Home" is linked below.
Follow Alicia on Twitter @alicialutes
MORE
 'Idol' Winner: 'I Hate Crying, But I'll Probably Cry Some More' 
Phillip Phillips Backstage at 'Idol': 'I Was Scared to Death'